By DJ Astrocreep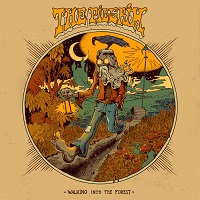 Gabrielle Fiori is a name known to me; from his Black Rainbows band that I saw recently at the Heavy Psych Sounds festival in London, to owning and running the Heavy Psych Sounds label, as well as being involved in Killer Boogie, he's a man who obviously has very little free time to himself. Still enough, though, that he has decided to create a solo project, titled The Pilgrim. This debut release as The Pilgrim is an acoustic garage rock style affair, which brings its own intricacies and tribulations.
The first thing I notice, when glancing through the tracklist as I download the album, is what is apparently a cover of Hawkwind's 'Brainstorm' – and indeed it is – one that gives a very good account of itself, too. 'Peace of Mind', the opening track of the album has been released as part of the promo for this and is another that gives a good indicator of what to expect on this particular release, with an almost desert rock feel to this particular song.
Reading through the promo blurb, it was the last track on the album, 'Suite #2', that was the first pulled together by Gabriel, which is a touch different to a lot of the others on the album, with an almost space-folk sound coming across to the ear. The shortest track on the album, 'Sunset in the Desert', is a very Kyuss-esque track, while tracks such as 'Pendulum' are back towards the desert rock side of things, meaning there is quite a dreamy psych feel to most tracks on the album, which bands together what is, in fact, a couple of different styles within this release itself, as the folk influence is noticeable on a couple of tracks, likewise the more desert and rock sides that show at different points.
I don't have any real gripes about this album, as it's exactly what it says on the tin. Pure '60s style acoustic Garage, performed in a manner that is both sympathetic to that age – one that Gabriel clearly has a lot of affection for – and worthy of being played alongside some of the bands that have spawned out of a similar sound, with the likes of Kyuss, Yawning Man and Hawkwind being a more full-on version of what he has created acoustically here. It should appeal to a wide variety of people and certainly shows a good indicator of further good times ahead for the act.
'Walk Into The Forest' is out now. You can get your copy HERE.
https://www.facebook.com/THEPILGRIMACOUSTIC/
All content © Über Rock. Not to be reproduced in part or in whole without the express written permission of Über Rock.