By DJ Monk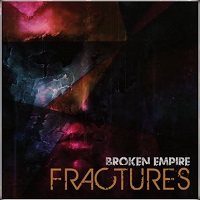 Oxford-based Broken Empire originally came together in 2017 as three instrumentalists, before making the highly sensible decision to add vocalist and rhythm guitarist Ieuan Owen to their ranks to take their material to the next level. Now, with this, their second EP release in little more than a year, they are seeking to do the same with their career – and, to be honest, this is not a bad presentation of their collective and individual skills.
While it does suffer a bit from too much genre-hopping – leaping from the classic rock stylings of singles 'No More Light' and, especially, 'Hearts Of Damaged Men' to the generic metalcore of 'Watch It Burn' to the proggier 'Can't Speak' – 'Fractures' nevertheless is a competent and accomplished offering from a young band with a huge amount of talent. The songs, while diverse in style, are well-written, constructed and thoughtfully presented.
Ironically, the most impactful of the five tracks, at least from my perspective, is opener 'Icy Veins', which has a dense, doomy vibe to the bass line and a rapid fire main riff that drives the song forward with a determined intensity, all of which is topped off with an fiercely snarling vocal from Owen. The aforementioned 'Hearts Of Damaged Men' carries on in the same vein, with a crunching riff that segues in and out of the main hook, while the bass and drums drive the song forward with aplomb and precision; to be honest, however, it's perhaps Owen's weakest vocal performance, as he could have done with some more oomph in the bottom end of his register.
As indicated above, 'Watch It Burn' sees them start to mix things up a bit, with dirty vocals taking them down the more metalcore route and the mid-section breakdown exploring a more prog avenue: it's not a bad song, but it does emphasize that Broken Empire are very much a work in progress – even if they are making substantial strides forward in that regard.
Despite the faults I've outlined – and, it has to be stressed, that, as with all reviews, this is my personal opinion – 'Fractures' is a decent wee release, demonstrating a band still finding their feet in terms of whatever genre they feel most comfortable inhabiting.
'Fractures' is out now. You can get your copy HERE.
www.facebook.com/brokenempireUK/
All content © Über Rock. Not to be reproduced in part or in whole without the express written permission of Über Rock.