By Jonny Bakes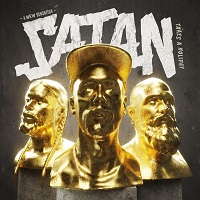 Even the Dark Lord needs some time off, but have you ever wondered what that might sound like? Well, we're able to find out with 'A New Sensation', the latest album from Swedish groove rockers, Satan Takes a Holiday. 'A New Sensation' is the follow up to 2017's 'Aliens' and is the fifth album for the three-piece, involving collaborations with the likes of Royal Blood among others. 
'A New Sensation' has everything you could want to keep you interested track after track. With a heady mixture of short punchy songs that pelt along at real pace and longer psychedelic grooves, this album becomes a bit of a rollercoaster to listen to and will ensure that you'll be hooked. For fans of Queens of the Stone Age, Royal Blood and The Hives, this album should form part of your collection.
The album opens with the title track, 'A New Sensation', and an opening riff that is very reminiscent of Queens of the Stone Age in their 'Rated R' and 'Songs for the Deaf' era. This track is incredibly catchy and manages to capture an almost chilled out vibe to ease you in gently for the ride you're about to embark on.
A sudden change of pace caught me completely by surprise with 'Hell is Here' featuring the vocal talent of Tess De La Cour (Memoria, Snake). This song has a real sense of urgency about it, and I found myself uncontrollably tapping my foot to this one. The theme here is pretty relatable too, we all get days where it feels like we're in Hell, and I'd say this song does a great job of capturing that emotion!
One of my favourite songs on this album is nestled in the middle of album and is about one of my favourite topics – 'Girls.' This combines fast drumming and a catchy riff to give two and a half minutes of pleasure. 'The Kingslayer' is a real psychedelic ride that stands out in the midst of this album. From a spooky riff into melancholic synth with the layering of haunting vocals lends to an almost disturbing feel that works well with the overarching theme of finality.
STAH could have let you down gently at the end of the album, but no, instead the parting track is the punky anthem that is 'Blow' ending this album on an absolute high. I'll give you two guesses as to the subject matter of this song; I can tell you it's certainly not balloons! "Sudden satisfaction, a chemical reaction" goes the vocal hook, before pelting through into two minutes of intense excitement which I can see being a huge crowd pleasure at their live shows.
After significant gigging and also touring with one of the household names in bombastic stadium performances, KISS, these guys have really earned their title of one of the best live bands in Sweden for their energetic shows. I'm impressed that they've managed to take all that energy and compress it down into the ten tracks on 'A New Sensation'
'A New Sensation' is out now. You can get your copy HERE.
www.facebook.com/satantakesaholiday/
All content © Über Rock. Not to be reproduced in part or in whole without the express written permission of Über Rock.