By Jonny Bakes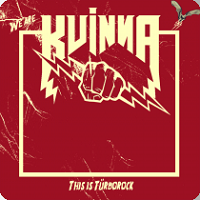 The first thing I saw from this band was a promo picture that had their faces superimposed on a galaxy scene and featured a bat firing lasers out of its eyes. At that point I guessed that I would be in for something pretty interesting…
The three-piece, KVINNA, have been performing shows across Germany since their formation in early 2015 and in that time they have developed their own flavour of stoner rock that they have introduced to the world. 'This is Türborock', their debut full length album, is here to show us exactly what had made them a popular live act in their homeland. While this was originally released by the band back in 2017, this will be the first time it has seen large scale release on CD and LP after being picked up by Argonauta Records.
What I've learned about "türborock" from this album is that it's fast, straight to the point and features some really chunky baselines. The majority of songs on this album don't breach the two-minute mark, a hallmark that they have brought over from the punk genre, which means that each song is a short sharp auditory assault in the best sense of the word.  Musically you can expect a very quintessential stoner rock album with a hint of punk, but I think it's the lyrics and the stories within that stands out here: the songs are full of fantasy and sci-fi themes, which I love to see from stoner bands.
Launching into the album, we kick off with 'The Desert Wytch' which is a pretty groovy number about a Wytch born from a scorpion that will come at night to make love to you with her scorpion tail. This is exactly the kind of lyrical content I was hoping for from that first picture. Musically this has the groove and rhythm you would expect from a Stoner Rock band, so no complaints from me.
'Niterider' kicks off with a nice heavy solo bass line before it's accompanied by some high-pitched guitars and those fast drum beats. Clocking in at less than one and a half minutes, it's one of the shorter songs I this album, yet still manages to stand out well! But if I thought that 'Niterider' was fast and quick, it was nothing compared to pace of the next track, the innocuously named 'Flat Tyre.' Which starts with a lengthy drum roll you'd hear at the start of many a punk song before really ripping into the song, and featuring an impressive guitar solo from Grizzly, the guitarist.
The laser-eyed bat begins to make sense with the next track, 'Space Vampyres.' Snyder makes it clear that they will not be able to defeat their foes with machine gun fire alone, and that they need to assistance of the Space Vampyres if they're to stand a chance. If the band didn't already have enough foes by this point, the next track marks the arrival of the 'She-Wolves on Fire.' It's becoming clear at this point that there has been a fair amount of thought put into the story behind these songs.
I'm not going to go through all of the tracks in this review, instead I will allow you to find out what happens to these creatures in the test if the album by listening to it yourself…
Clocking in at around 30 minutes, this won't be the longest album you'll listen to this month, but a lot of energy has been smushed into that short time. I'd say this is a strong debut from the guys at KVINNA, and I'd like to see where the future takes them and whether they'll continue to develop their style into a truly unique sound.
'This Is Türborock' is out now. You can get your copy HERE.
All content © Über Rock. Not to be reproduced in part or in whole without the express written permission of Über Rock.