By DJ Astrocreep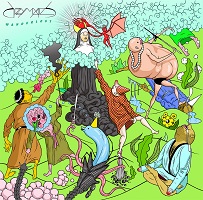 We get a lot of album submissions here at Über Rock, from a variety of artists, so when something comes in that is labelled for fans of Frank Zappa, Tool, Primus and other such progressive luminaries, it will naturally catch my eye. Canadian outfit Dizzy Mystics did just this with their debut release 'Wanderlost'. Quite some billing to live up to and one that many bands try for and fail – would DM be the latest act to aspire beyond their current reach?
Like Tool overdosed on speed, with the vocal harmonies, technical ability and song crafting ability to boot, they actually hit their target by some distance. They had previously released two singles, both a while ago, whilst writing the rest of this release, though the tone and songs mesh well with the later created tracks. The album is heavy on the prog side, with an occasional element of Djent peeking through, while there are elements of other influences that peer in at different times, amongst them funk, psych and hard rock.
The whole album, while having a similar feel, has a variety to it that is quite refreshing to hear from a band in their debut release. While so many newer bands play it fairly safe in their early career, Dizzy Mystics actually seem to explore their musical sphere and vary their sonic landscape with a plethora of ideas, whilst finding a way to still remain – most of the time – quite easy on the ear in a manner that wouldn't be against the grain for radio play, certainly on some of their shorter tracks such as 'The Frequent See, Consistent Seas', while titular track 'Wanderlost' weighs in at the longest on the album by some margin at over 11 minutes.
This is a fantastic release, one which belies how early in their career Dizzy Mystics are, as a level of comfort and trust in each other is apparent to the ear, giving a multitude of harmonies, even when resorting to the discord that prog sometimes results in. While most of the album is quite fast-paced and frenetic, there are times for a more laid back approach, which they do with the same level of abundance of talent as their quicker paced tracks, meshed with a sound that should be quite appealing to a variety of listeners interested in rock, prog, jazz with elements of Ffnk and similar occasionally popping into your ears. A contender for my end of year lists.
'Wanderlost' is released on Friday (3 May). You can get your copy HERE.
www.facebook.com/dizzymystics/
All content © Über Rock. Not to be reproduced in part or in whole without the express written permission of Über Rock.