By Jonny Bakes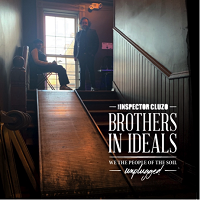 This band first came to my attention when they supported Clutch on their 2018 'Book of Bad Decisions' tour with The Picturebooks. With their incredibly enthusiastic performance, and blatant disregard for the longevity of their instruments (drummers, you'd cringe at what happened to the drumkit…) they had me instantly hooked and even threatened to outshine the other support act of the night. They were so French that they were selling berets on the merch stand, and their name was The Inspector Cluzo and no, I'm not talking about the clumsy outrageously French detective who was constantly thwarted by the Pink Panther. No, instead we have a pair of French former farmers shredding out some incredibly emotive blues music that will penetrate even the coldest of hearts.
The first thing I did after getting back from that gig was to check out the bands whole collection and found that 'We The People Of The Soil' became one of my top albums of the year. Which is probably quite fortunate considering that this latest release is an acoustic reworking of that very album. It's what you could call a "fuck it, why not?" album, as it was originally born out of some acoustic sessions with Arte-Deezer which snowballed into a full acoustic recording of that album. I mean, to quote Laurent (vocalist)… "WE WERE NOT PLANNING TO RELEASE IT …BUT IT IS OUR OWN LABEL AND WE DO WHAT WE WANT" and I can only assume that he shouted that from the middle of a field in rural France.
Now, if you haven't already listened to 'We The People Of The Soil' then I strongly suggest that you listen to the original before checking out 'Brothers in Ideals' or you can do it afterwards if you really must. As long as you listen to both renditions to really appreciate the contrast between the real heartfelt bluesy vibe of the original and this new stripped back reworking of the album. If 'We The People Of The Soil' is the garlic bulb of The Inspector Cluzo, then 'Brothers In Ideals' is the clove that you are left with when you strip everything else away.
The tracklist, as we would expect, is identical to the tracklist of 'We The People Of The Soil' so all of the big hits are here. There's 'A Man Outstanding In his Field', the title track (of the original) 'We The People Of The Soil' and the title track (of this album) 'Brothers in Ideals' to name but a few. At first listen, these new renditions of the song are fantastic! There's a heavy emphasis on piano that wasn't really there before, which brings me back to Hugh Laurie's debut blues album. Instrumentally, everything is stripped back but that certainly hasn't resulted in a dampening of the emotive power of these songs at all. As you might have gathered, this is definitely more of a chill out album than anything else, hell you could probably use this to pretend you're civilized when you host friends for dinner and they wouldn't even guess it was an act (but I would know).
'We The People Of The Soil' was my favourite track on the original version of this album but it's quite possible that I like this rendition even more. The loss of the electric guitar and the introduction of the piano and the muted drumming really allows the voice of Laurent to convey all tha passion in what is clearly a very personal song for the guys. Well, this is blues after all, they're all personal songs! But I'd argue that this may be the most personal track on the album.
'Cultural Misunderstanding' manages to take this stripped back ethos and take it even further by drafting in a violin to really bring out that depth to the track. Having seen these guys play live, and seen the way Matthieu annihilates his drums, I'm amazed at how restrained he manages to be on this track with the subtle cymbals and bass drum fading into the background here.
The album closes with the (new) title track, 'Brothers In Ideals' which also sounds fantastic in its new form. Again, this new format really allows Laurent's voice to take centrestage to allow him to show off his range and control. You don't have to be a farmer to get completely engaged with the vocals as he has a way of really reaching inside and tugging at those heartstrings.
For me this was a great relaxing album, and I'll certainly be using it to drown out the sounds of screaming babies as I jet off on my various travels. Obviously, this isn't a big party album, but then that's something that this never claims to be! If you're after something emotive and chilled that displays some fantastic, yet simple, musical talent then I would look no further than 'Brothers in Ideals' by The Inspector Cluzo.
'Brothers In Ideals' is out now. You can get your copy HERE.
The Inspector Cluzo play the following dates next month:
Wednesday 19 – Glasgow, King Tut's Wah Wah Hut
Thursday 20 – Bristol, The Exchange
Friday 21 – Birmingham, Actress & Bishop
Saturday 22 – Manchester, Soup Kitchen
Tuesday 25 – London, Camden Assembly
All content © Über Rock. Not to be reproduced in part or in whole without the express written permission of Über Rock.