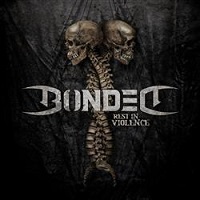 Cast your mind back to early 2018 and you may recall the controversial change to Sodom's line-up when guitarist Bernd Kost and drummer Markus "Makka" Freiwald found themselves unceremoniously fired via Whatsapp. Not prepared to just sit at home sulking, they've returned with Bonded, an all-new metal act with former members of Suicidal Angels and Assassin filling in the gaps. 'Rest In Violence' is their debut album and while it ticks all the thrash boxes, it also gives them a chance to flex their muscles in ways they might not have before.
'Rest In Violence', you see, is an album of two halves. The first is relatively straight-up thrash designed to get mosh pits churning, while the second is more willing to experiment with the formula. Opening duo 'Godgiven' and 'Suit Murderer', for instance, are a pulverising first salvo. They recall Testament at their heaviest, helped in no small part by Ingo Bajonczak's deceptively versatile voice, sounding like a barking Chuck Billy at one point and a coal-throated stoner rocker the next. The balls-out title track makes for an early highlight, a guest appearance from Bobby Blitz of Overkill nailing their credentials to the mast, while the more mid-paced 'Je Suis Charlie' adds a welcome dose of groove into the mix.
Once the razor-edged pitter 'The Rattle And The Snake' is out of the way though, Bonded start to play around and push the boundaries of their chosen genre. Aside from an eyebrow-raising harmonica solo, it's been relatively by the book headbanging so far, but 'No Cure For Life' changes that. There's an ominous introduction which hints at an incoming sledgehammer, but instead it turns into a blissed out and morbid slow-burner. It's closer to Crowbar than any thrash band you can name and comes completely out of the blue. It also demonstrates aptly how good a singer Ingo is, his lymph-node ravaged larynx fitting both styles remarkably well.
This is followed by 'Where Silence Reverberates,' which is just as off-kilter. It features a bouncy and catchy riff but the overall vibe it creates is one of tortured insanity. You could even argue that it sounds like some ancient being of unspeakable horror tried to write an Anthrax-style party-thrasher, but it's innate malevolence meant it couldn't quite get it right.
For the next two songs, 'Rest In Violence' falls back into familiar territory. 'Galaxy M87' is a return to the full-throttle chaos of the opening tracks, albeit with more light-hearted sci-fi lyrics, before 'Arrival' embraces pure thrash with open arms. 'The Outer Rim' though once again sees them attempting to expand their horizons, but with mixed results this time. Here, Bonded have a go at writing an epic semi-ballad but it never quite gels. You have to commend them for trying to push the envelope, but this closing effort is something of a noble failure and probably should have been left off.
That final hiccup aside, 'Rest In Violence' is a hefty statement from these lads. It's a very modern interpretation of classic thrash and a welcome return from Bernd and Makka. Freed from the constraints of their previous act, they're carving out a new legacy and, while not everything works, 90 per cent of this album slays.
'Rest In Violence' is out now. You can get your copy HERE.
www.facebook.com/bondedofficial
All content © Über Rock. Not to be reproduced in part or in whole without the express written permission of Über Rock.