By Jim Rowland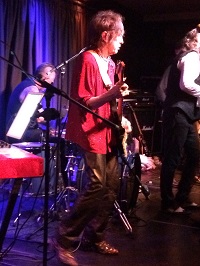 They are infamous, they inspired punk, they were championed by Keith Moon, they were often referred to as the British New York Dolls, they released just one album and one of them went on to form The Boys. They were The Hollywood Brats, and tonight they're back, hitting a stage for the first time in 45 years.
Tonight's show is totally sold out, and it's extremely hot and sweaty in Nell's as original Brats Andrew Matheson, Casino Steel and Brady, along with three new recruits (including the current Boys' rhythm section of Kent Norberg and Martin H-Son), hit the stage for this hugely anticipated show. The legend of the Hollywood Brats has endured and grown over the decades since their demise in the mid-70's and it's fair to say there won't be many people in the audience tonight who saw them first time round. With Cherry Red re-releasing their one and only album a fair few years ago now, a whole new following was created, and there's even a few keen fans from overseas who have flown in for the gig.
I didn't really know what to expect from this. Given the band's reputation from all those years back, it could well have been a shambolic car crash, but as the Brats launch into the opening salvo of 'Tumble With Me' and 'Chez Maximes', it's crystal clear that will not be the case. Sounding remarkably close to the original album versions, with a bit more balls, and with Matheson's voice sounding intact too, the Brats are delivering from the off. There's even a brand new single, the brilliantly named 'Vampire Nazi', thrown in too, which blends pretty seamlessly with more of the old stuff like 'Courtesan' and 'Nightmare'. Matheson decrees 'if you don't like Chuck Berry, there's the door' as they deliver a very decent 'Sweet Little Sixteen', and there's a special treat in store as a Boomtown Rat joins the Hollywood Brat on stage, as Brats' fan Bob Geldof joins in the fun for a run through the Kinks' 'I Need You'.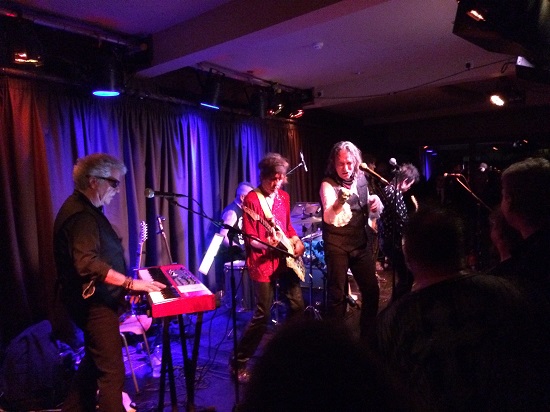 Three big hitters close the set with 'Another School Day' and 'Then He Kissed Me' sounding awesome and 'Sick On You', probably the most famous song and the title of Matheson's recent book,  rounding it all off perfectly with the crowd singing along in rousing fashion. And that's it, a short and sweet one hour and ten minute set with no encore which rightly leaves the crowd wanting more.
Considering this was the first Hollywood Brats gig since 1974, it really had no right to be this good. The Brats didn't just pull it off, they smashed it. More please.
PHOTO CREDIT: Photos by the author.
All content © Über Rock. Not to be reproduced in part or in whole without the express written permission of Über Rock.