By Bona Pjarren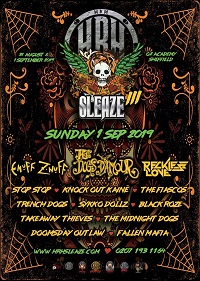 Sunday? That seemed to come around quickly! I start again at stage two, as I feel it is important to see what is newer to the scene, and this is the best stage for that.
First up are Fallen Mafia from Newcastle. I just caught their last song due to being delayed by road work problems. It was a real shame as from the bit I did catch it sounded to me like it was my sort of thing. They had a very different sound that was hard rock, sleaze but much much more. They cited artists such as Rob Zombie and Nine Inch Nails as some of their influences and this showed. Hannah Neil has a deep voice which also adds to their unique sound. They finished with a great ballad in memory of a close friend called Melissa who sadly committed suicide, the track was called 'Nynph'. I definitely recommend this act.
Doomsday Outlaw are next on stage. I hold my hands up, I have seen this band before and consider them a great little rock and roll band. They have not gigged for three months as they were concentrating on their new album. I really couldn't tell that they had taken time out as they put in a tight set with stunning vocal harmonies. Featuring tracks like 'I'm On My Way' and 'You Need Me', they are a great energetic band to get you going on a Sunday afternoon.
The Midnight Dogs are described on their Facebook page as "a good old-fashioned rock and roll band". They are punk, with added punk and soupçon of punk on the side by way of garnish. High energy band and great fun to watch.
Now to the main stage where Trench Dogs are just launching into their set. I know I said I was going to concentrate mainly on stage two, but Trench Dogs lured me into their set with their high octane, attitude packed set. They have many levels to what they do, from great little rock and roll tracks to hard rock bordering on speed metal stylings. Top that off with beautiful vocal harmonies they are one of the many highlights of the weekend. There was a guest appearance from Tigertailz bassist Berty Burton on 'Sabotage' and 'Do You Love M'e. Check out 'I'm Going Under'.
Stage two features Takeaway Thieves who are a hard rock outfit in a classic 80's style. They pulled a decent sized crowd who seemed to enjoy them. If you're into post Bon Scott AC/DC you will love this band. As you can tell, they were really not my thing. But don't let that put you off them.
Black Roze: this is the second time I have seen this band at Hard Rock Hell and I really enjoy what they do. Female-fronted sleaze, goth and classic rock. They are vocally impressive, both lead and with harmonies. Vixen Roze has the sort of vocals that send shivers down my spine, powerful and soulful, she adds to the share power of this band. And they have death metal grunts (Steve Rankin), so that automatically sells it for me. Steve Rankin (bass) and Vic Finch (drums) keep the whole musical avalanche under strict control. Jaimie Corrinas and Baz Roze are a breath of fresh air on guitars, in that they do not overplay and give each song exactly what is needed. One of the all-time greats for this was Dave Gilmore and it is an impressive skill. Their cover of 'Sweet Dreams' is easily as good as the original. Check out their song 'In the Darkness'. They completed their set with a doom metal cover of 'These Boots Are Made For Walking'. My message to Black Roze is : you have been absolutely fantastic. Thank you.
StOp sToP are on the main stage and are another very entertaining band. These guys are a live band. You just cannot appreciate how good they are from a cd. They gave a master class in how to work an audience. With great covers such as 'Rolling On The River'/'Thunderstruck' mash up as well as powerful original songs they are winners. The only drawback was they clashed with Black Roze. They left the stage to rapturous applause.
And next are Reckless Love: that's the name of the band, honest, well that's all I'm saying in my defence. But seriously, this is Olli Herman's new band. They are described as "merry metal", and why not? Glam rock from Finland, with pounding rhythms, screaming guitars and an appreciative audience… sounds like the ingredients of a great party to me. With anthems like 'We Are The Weekend' they rocked the O2.
Enuff Z' Nuff need no introduction from me. Formed in 1984, this American band have not only stood the test of time but also the rigours of years of gigging. Formed by Chip Z'nuff (great name) and Donnie Vie (no longer with the band) they bring their own brand of glittery glam loveliness to the stage. Years of gigging has produced a band that have more polish than most stately home banisters. Driving drumming and bass accompanies psychedelic vocal harmonies blending seamlessly to produce their unique sound. I could hear so many influences in their music from classic Beatles psychedelia, David Bowie and The Sweet glam to, well, just great rock and roll. With a great sense of humour they are a live band +++, and that is why they have stood the test of time. I'm not going through a list of the great songs they showcased but 'Fly High Michelle' was on another level. The last gig I enjoyed this much was Tyr at last year's HRH Vikings.
Tyla's Dogs D'Amour finish off a great weekend of talent. Tyla came to the stage with a steep hill to climb. He did stick to what he does best. I felt that the set was a bit pedestrian for a start but did warm to him as the show went on. While Tyler has a unique sound, one comparison that sprung to my mind was The Band, particularly with Bob Dylan as both have great and moving poetic lyrics. Tyla is a better singer than Bob though. Tyla's Dogs D'Amour are superb musicians and I did start to think I should explore his material in a bit more depth. So, I guess he did convert me to some degree. The important thing was that there were obviously a lot of Tyla's fans in the audience and they loved what he did. He featured 'Let Me Be Your Saviour' (classic ballad) and finished with 'I Don't Want You To Go'.
All content © Über Rock. Not to be reproduced in part or in whole without the express written permission of Über Rock.