By Bona Pjarren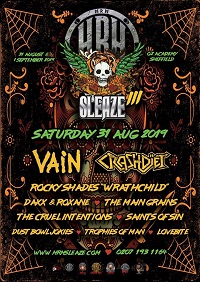 It's Saturday, it's midday and it's time for… Well, Hard Rock Hell's Sleaze festival and I have just drifted into stage two's room.
Trophies Of Man are the first band on my agenda to see live. They are a melting pot of musicians from King Lizard, Renegade Playboys, Love and Bullets, Blackstate Highway and Red Thirteen and are based in London. As you would expect with a band filled with that sort of experience they delivered, in the main, a slick driving performance in a hard rock styling. They rocked Inside and finished with 'It's So Easy', a Guns N' Roses cover.
Well, with this weekend being HRH Sleaze and all that goes with that vibe, there just had to be a presence from Sweden. Enter Dust Bowl Jokies from Solvesborg. With eight years' experience of playing together as a band and a raw pounding sound that incorporates hard rock, blues and country rock they are a force to be reckoned with. Playing to a packed room they rocked the crowd. Check out 'The Wicked' and 'Blood, Sweat and Perfume'. I really like their performance of 'The Whore of Babylon', particularly as they used this to jump straight into a cover of 'Rock and Roll' (Led Zeppelin) before concluding 'The Whore of Babylon'.
The Main Grains entertain with a somewhat catchy modern punk vibe. I immediately warmed to this outfit. That and a tongue in cheek attitude to playing live makes for a winning combination. They have a debut mini album out called 'Don't Believe Everything You Think'. And now they are doing a cover of 'Teenage Kicks'; the late John Peel asserted this track was the perfect example of song writing. They more than do it justice. I loved the 'Unsung Heroes' track, 'Sunshine Girl' was also included: the lead singer, Ben Marsden, used to be with the Yo Yos. What a version of 'She's a Catch'! So what's the appeal? Well, the sound is a bit rough around the edges but that just adds to the energy and their infectious appeal. I think sometimes bands can be too polished and that makes them sound flat and bland. In conclusion, keep it rough and ready, it really suits your sound guys. 'I'm In Love With The Rock And Roll World' concluded their set, and after that performance I certainly am in love with The Main Grains.
Back to the hard rock with Daxx & Roxanne. These Swiss rockers now make their home in London. Great musicians with a tight and we'll crafted sound. Check out their new single, 'Interstellar'.
The Cruel Intentions are playing on the main stage. It is Lizzy Devine's latest band. I have to admit I didn't catch too much of their set as I was watching Daxx & Roxanne on stage two, but I enjoyed what I did see. They are an alright rock and roll band demonstrating driving riffs. They finished with 'Sick Adrenaline'.
Rocky Shades' Wrathchild are next up. Anyone remember Wrathchild? Well this is their new incarnation. Fronted by Rocky Shades, they're back. With dancers and bazookas (I kid you not) they put on a hell of a stage show. Old school rock and roll with attitude, featuring renditions of 'Good Girls Do It For Free', 'Sweet Surrender' and 'Kick Down The Wall', they're well worth catching. They finished with a cover of 'Pretty Vacant'.
Crashdïet are a Swedish sleaze metal band from Stockholm, see I told you there would be a big Swedish presence for this gig. Storming into songs like 'Rejoice' and new songs like 'Rust', they do offer something a little bit different from the run of the mill hard rock style. It's easy to see why they were put high on the bill. A massive cheer went up from the audience as they were joined on stage by Reckless Love singer and ex Crashdïet frontman Olli Herman for a classic reunion.
Vain. Do I really need to introduce these guys? With albums from 'No Respect' to 'Rolling With The Punches' they have quite a back catalogue. They have had line-up changes, but this line-up looks more or less like the original band. They first played in Sheffield in 1989. Highlights from the set included a great soulful version of '1000 Degrees'. There was a powerful rendition of 'Watching You'. And, of course, 'No Respect' had to figure in there at some point. Encore was a rousing version 'Beat The Bullet'.
All content © Über Rock. Not to be reproduced in part or in whole without the express written permission of Über Rock.