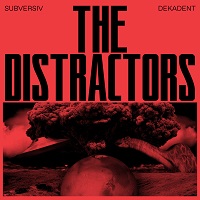 Formed in Belgium in 2019, The Distractors release their debut LP, 'Subversiv Dekadent' this week with the intention of inciting disorder, specifically it seems, the stealing of cars and the punching of people in the face. It occurs to me that I could be done for suggesting that this was their intention. So, let me ask you – is 'making you want to' the same as inciting? It's a grey area (pointed stare).
Ironically, given these anarchic goals, it seems likely that the album name is a tribute to highly influential and genre-crossing Mancunian, Mark Reeder. A post-punk advocate of the need for understanding and cooperation between cultures, he started out at Factory Records, Manchester as part of punk band The Frantic Elevators and ultimately moved to Berlin and founded dance labels MFS and Flesh. I'll try to gloss over the fact that one of his bandmates in The Elevators was Mick Hucknall.
Anyway, like most bands The Distractors have been affected by the restrictions that a pandemic inevitably causes, but not in the same way as you might expect. Rather than fucking about online honing their sound, in typical punk style they thrashed the songs out quick as they could before any restrictions got too severe. Hence, their sound is raw and rash, done and dusted in a maximum of four takes. Not so punk is the fact that they wore their masks in the studio. Must say I'm curious to hear the vocals now.
'Everybody Hates Poetry' opens the album and I can immediately visualise the sweaty bar-shows where The Distractors made their name. This'll make you move. With lyrics like "I tell you what you wanna hear instead, if we're lucky we'll end up dead", and The Man With The Golden Hand's screeching guitar chords it's a good start. Meanwhile 'Grudges Don't Put Liquor In The Cabinet' has been described as something you'll like even if you don't understand it. With frontman, Lobster Johnson, working a classic snarl, the song, which you may assume is about drowning your sorrows over past relationships, is actually about forgiveness. What made me laugh is that the title is taken from a news headline about how Shakespeare's Sister got over their differences. Surely everyone loves Shakespeare's Sister.
Rawer than a vegan's lunchbox you can hear that 'If I Have To Die You Have To Die' has been recorded without all the extra fluff and care but, though it wavers between a car crash and a happy accident, overall it's got me hooked – for whichever reason. It's about that time in the night where your guilty pleasure comes on. 'Evil Mariachi' (yes Mexican Mariachi) is the bastard creation of Sven (Golden Hands). To me it seems to be about someone who should let things rest but won't and then there's consequences to face. The lyrics, admit the band, are completely senseless. Again, in spite of reason, it works. Following this madness is the single 'The Night Is Young And So Are You', about uncontrollable anger, maybe caused by love? We've all felt a little like 'Life's a plate glass window, begging for a brick' No? This song is suspiciously followed by 'Love You To The Max', knew it. The distorted rhythm backs the most intricate lyrics on this album, because it's the song with the most meaning.
JP900 (drums) and Yves de Molotov (bass) make 'Do Wrong Right' although it was apparently the lead guitar that took ages to come together. A driving rhythm and rotten attitude make for a great rock song. Garage punk sounds, loose strings and spat out lyrics typify 'To Hell With Good Intentions' which is a short sharp and relatable tirade about hating your job.
I'll let you infer the meaning of 'Bang Bang Bang' from the lyric "scratch my itches, taught me nothing at all". The guitars on this are to die for from the opening rhythm to the solo. Meanwhile 'Stoop To That' takes your head off immediately. Aggressive and fast, verse one is a Hold Steady tribute and verse two acknowledges The Replacements. A mini-Minneapolis music montage.
Honestly, as we reach the closing tracks of this album, I'm into every song I hear so far. 'You'll Never Take Us Alive' was written by guitarist, Sven, so clearly it opens with some killer riffs which primes you for the simple slap in the face that is 'Long Live The Dead'. About social media, the few lyrics that are there serve to hammer home the message that everyone is just there to vent hate from the comfort of their own home. For future reference, apparently this one is a killer live, so much so that it wasn't going to make it on to the album. If you want the full version better, you go get some tickets to a livestream as there's a near five-minute preamble to this usually.
For any unfamiliar band, I think you'll agree that it is unusual to like the album on the first listen. Not impossible, but unusual. I thoroughly enjoyed listening to The Distractors from the off, and they're certainly unusual. Sometimes out of tune, there are some duff chords and open strings but in the end this band is… something else. In the simplest of lyrics, they describe feelings, failings and intent with ease capturing the essence like double strength diluting juice… except that The Distractor's don't sound like a run of the mill, Tesco Savers punk band, although they do punk very, very well. They're more rock n' roll than that, which works really well without any loss in attitude. They don't sound like any band really, even although Johnson seems to think he's subconsciously stolen half the album. I hear something refreshing and exciting. Something that you can't wedge in the box, which takes us full-circle back to their influencers. People who went their own way and eventually conquered the world.
If "we're just monkeys in pants, hooting at the abyss", at least we have some decent music to listen to while we gesticulate.
'Subversiv Dekadent' is released on Friday (14 May). You can get your copy HERE.
www.facebook.com/thedistractorsareintown
All content © Über Rock. Not to be reproduced in part or in whole without the express written permission of Über Rock.