By John Bedard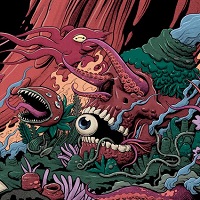 If you send me an album and tell me it is "for fans of Breaking Benjamin you better be able to back it up. That is a very high pedestal in my mind and one I judge against harshly. So, needless to say, my expectations are very high. I feel it is important that I make this really clear due to how emotionally connected to the genre I am and I tend to be very picky in this particular genre, especially when it is my first exposure to a band. I tell you all this because when I say this album kicks ass, I want you to get my full meaning.
The musical style here takes on a few forms. At times it is that signature hard rock I came here for but at others you get a bit of that rock pop style that while not totally my thing personally, I do think it will be extremely popular for the band. I think "work" is a particularly good example of what I mean by this. Because of this, there is a fantastic evolution between each track and within the tracks themselves. There is a ton of variety to keep you from ever losing interest. Plus, the guitar tone is wonderfully heavy and perfectly balanced which just makes me happy.
Vocally, things get even better. There are so many styles mixed in transitioning wonderfully. From a heavy screamed vocal to powerfully sung style to some rapped segments that are somewhat reminiscent of hybrid theory era Lincoln Park. There is never a point where things ever feel like they get overly repetitive yet after just one play through the songs are approachable enough that there were some tracks I could already sing along with. This is a balance that is extremely hard to get right and is handled expertly here.
I will be listening to this album for many years to come and I will now be checking out everything Pop Evil has to offer. I loved every second of 'Versatile' and can think of a few of my friends who I might need to pick up a copy for. A fantastic experience from start to finish. Go pick this one up. Hell, pick up a few extra copies to give away. You owe it to yourself. Don't miss out. Your collection is officially incomplete without it.
'Versatile' is released on 21 May. You can get your copy HERE.
All content © Über Rock. Not to be reproduced in part or in whole without the express written permission of Über Rock.