I have seen Kris Barras at several gigs since the release of his second album, 'Divine And Dirty', in 2018 and then seeing him live with Black Stone Cherry at Caerphilly Castle in 2019. The recent headline tour in support of his most recent release, 'Death Valley Paradise', which I caught in the Tramsheds in Cardiff, with Florence Black supporting him, was another highlight. The opportunity to catch up with the man backstage at Download 2022 was one that was too good to miss for me.
I started off by asking how he felt his set the previous day had gone…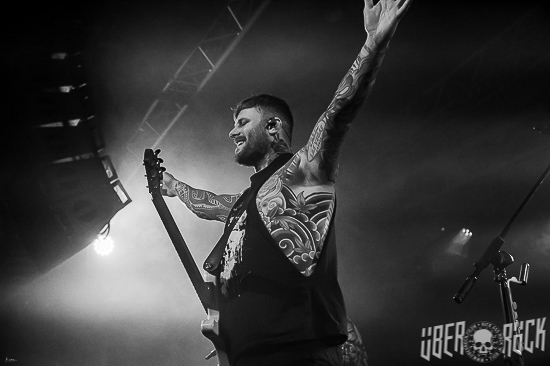 It was just unbelievable really, you know. Download for me has been a festival I've always wanted to play.
Is this your first time here then?
Yeah, first time! It's actually my first time coming here. It was just amazing, the set was fantastic, there was such a good crowd, everyone was singing along, it was just amazing! Then after that, got on the beers and just had a wicked time! It is such an amazing festival, everyone is in such good spirits.
The weather helps!
Yeah, the weather definitely helps!
My son was here in 2016 when it was Drownload! So, he got absolutely soaked, but there we are! So, you've done Download now, and I know you've got a gig coming up in July at the Cheese and Grain in Frome with the Scarlet Rebels…
Yeah.
So how do you choose your support bands? It's a question that always interests me as fan more than anything.
Well, I wasn't actually involved in that decision, it was just sorted out between the promoter, my management and the agent. Most of the time it is sorted out by them and they normally run it by me, saying, "we think this band should support, are you happy with that?". Normally, I'm cool with it.
Scarlet Rebels, they've opened up for us before, I know the lads, they're a great bunch of lads, fantastic lads. So as soon as they said they wanted Scarlet Rebels, I said "perfect!".
I just saw you talking to the Florence Black boys, they're another nice bunch of lads. I Iike them a lot too, been following them since about 2015, so it's nice to see local bands making it big as well.
Yeah, they just opened up for me on my headline tour, they did a fantastic job, everyone loved them, and yeah, a great bunch of lads.
Yeah, I saw the gig in the Tramsheds, that's another gig I got to see you at. I don't miss you much If you're there, I'm in the audience, usually in the pit on the other side of a camera lens, which is what I do more than interviewing to be honest with you. So, the last two years have been hell for everybody for a variety of reasons. I noticed you enjoyed yourself yesterday, cos I was in the audience and caught about half the set. I enjoyed the set as did all my mates. I noticed that the last album is quite a bit heavier than your earlier ones. Was that a deliberate choice?
Um, I didn't sit down and go "right, I'm gonna write a hard rock album", it wasn't like that. It was just songs I was writing that were just coming out heavier. Ive got a lot of influences from a wide range of genres over the years.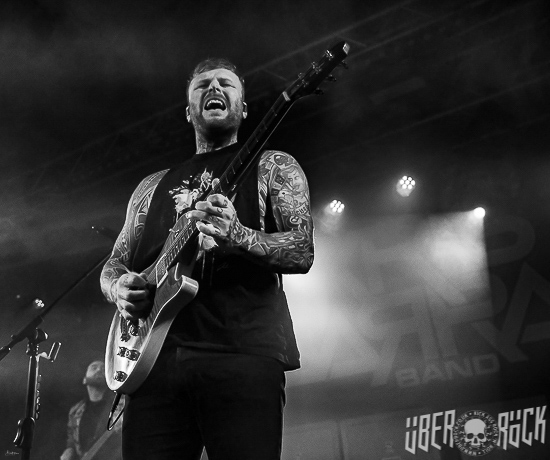 In my teens I was in a metal band and I grew up listening to all the different shreddy guys, so it's just nice for me to play around with some of that stuff in my songwriting and turn it into an album. I definitely think I feel a lot more at home and more comfortable doing the stuff I'm doing now, and I think the band Ive got now, it just comes out heavier. Billy Mckenzie on drums and Kelpie McKenzie on bass joining has just taken it to a whole other level. There is a connection there, we're all on the same page, and its just brilliant.
Also, Josiah, who used to play keys, has moved on to guitar now and that's done a couple of things. It's made is heavier, but its also freed him up to perform. When you're stuck behind a keyboard, you're limited to what you can do; but now he's up front with me, having a great time and just, it all helps you know. That live energy was something we wanted to capture, and we feel we've done it with the new album.
There is definitely an awful lot of energy on the stage, I've seen you many times now and it's incredible to watch. I have to be honest I enjoyed the acoustic set you played in the Tramsheds where Josiah was playing all the parts he was. That was pretty impressive.
Yeah, he does the bass pedals with his left foot, the kick drunk stomp with his right foot, and then plays guitar and sings backing vocals at the same time (ha ha ha). He's got about four things going on, pretty incredible, very talented man!
So, are you going to have a bit of a break after the Cheese and Grain gig?
We've got a few things dotted along the summer, some festivals abroad in Italy, France, and then we're going to see. There are few things being lined up and a headline tour that is being lined up at the moment, probably early next year. So hopefully there will be some announcements on that soon
So, I've just got to see if you come back to Wales again
Oh, we'll be back to Wales, can't miss out Wales.
Ha ha ha. I love the stuff your playing, obviously, I love the older bluesier stuff. One last question, that is currently coming from the stuff you are currently playing and promoting. When you are choosing a set list, how do you choose a set list for a tour? Is it like picking between your favourite children?
Ha ha. Yeah. I mean it is tricky, especially now we've got four albums worth of songs. It can be hard, obviously, we have to include the songs that have had the most radio success as they'll be the ones people know the most, so we always keep them in. It kind of all falls into place, when I start thinking about the set, there is a flow there that I try to make coherent. I want it to be a show, I don't just want it to be some guys playing a bunch of songs. So that kind of dictates it somewhat.
This one was tricky. There were some songs I wanted to do off the new album, but hey, it gives us room to keep things interesting. Our next tour we won't have a new album out before that, but there are plenty of songs on the album that we didn't do that we can bring back, or put some new twists on some of the older songs. So, we've got a bit of room to grow….
Thanks for your time, it's been a pleasure talking to you, hopefully, I'll see you from the other side of the lens very soon.
www.facebook.com/krisbarrasband
PHOTO CREDIT: Photos © Bandtogs/Über Rock. Taken at Tramsheds in Cardiff, March 2022.
All content © Über Rock. Not to be reproduced in part or in whole without the express written permission of Über Rock.