By Jase Walker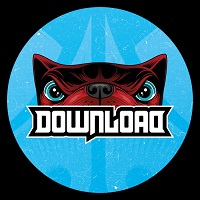 Honestly, I woke up today with a bit of a thick head and a dry mouth, but it wasn't going to stop me getting to the Dogtooth stage bright and early to catch Death Blooms.
Death Blooms dropped one of my favourite albums of last year and after several missed chances to catch them in Manchester for one reason or another, my first time will be at Download. After a brief boogie to the Vengabus, Paul jumps right on the stage and Saturday is now in session. Nu-metal isn't dead, and Death Blooms are kicking my hangover right out with 'In Your Head'. Admittedly getting a spot right next to the front might have been a bit of a bad idea when I'm feeling this tender, but it's Download innit, safe decisions rarely make for good fun!
I really need to make an effort to catch a headline set from these at some point soon, their early day set has left me eager for more! The pits and crowd surfing is bonkers, a brilliantly entertaining show so early on, setting the tone for Saturday!
I made a quick return to the press area to grab an interview with Scott from Bleed From Within and made it to the second stage just in time to catch Malevolence! After seeing these guys at Alexandra Palace supporting Architects, I was not going to pass off a chance to see them again! With the band hoping to pull off the biggest circle pit that Download has ever seen too, I'm making sure to get a good vantage point because that crowd would actually kill me!
Admittedly I'm still not fully familiar with their back catalogue, but their latest album was an unreal slice of massive riffy metalcore and hearing it done live makes it so much bigger. Every riff is crushing, each low chug shakes the floor and their singer stomps around the stage like he owns it, and I think he's probably right! Malevolence delivers on one of the maddest sets of the weekend so far, they're on a roll at a blistering velocity and I don't doubt for a second that their return will be at a higher slot on the main stage.
'Welcome to Horrorwood' comes over the PA as Ice Nine Kills take the stage. There's nothing that would stop me missing a band that rarely comes to the ÜK! Suited and booted, the American emo-era metalcore giants are hitting Download's second stage with style! I'm already hooked on their sound and definitely need to make an effort to get more of their music in my ears. The crowd that's gathered for these is massive too, spanning the grassy knoll both sides of the stage.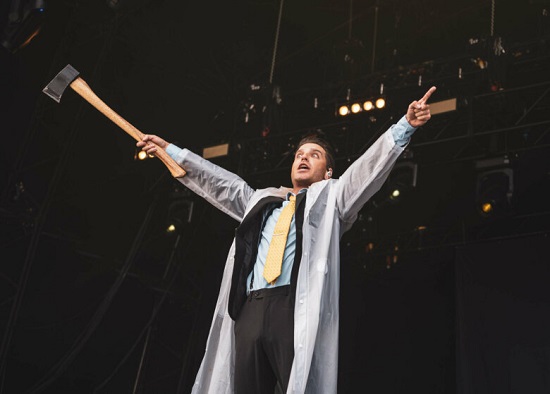 Their stage show has theatrical antics which I love, with the singer "killing" the guitarist while dressed in a Patrick Bateman outfit. I feel like this show is going to be a 'spot the reference' sort of thing; it's why I consider Rammstein the best live act I've ever seen. Now with a young child with a clown outfit and knife, imitating a young Michael Myers – I am loving this! Next is Leatherface and the 'Texas Chainsaw Massacre'! We've even got a 'Carrie' and 'Evil Dead' bit in there too: this whole love letter to old school horror has been a fantastic set to witness and I'll most definitely be checking them out again on their forthcoming tour!
A quick run over to the Avalanche stage to catch post-hardcore group, Holding Absence. This lot are doing incredibly well and Download's crowd is no exception, the tent is absolutely rammed front to back. This band has fast grown in my heart as one of the most honest and humble bands in the scene, especially given their recent success. The crowd is awash with waving arms and smiling faces,it's hard not to get carried away along with the vibe that everyone else is feeling at the same time. Holding Absence puts on a show that's so easy to sing along with and bounce to, and the atmosphere surrounds you like a familiar, comfortable blanket.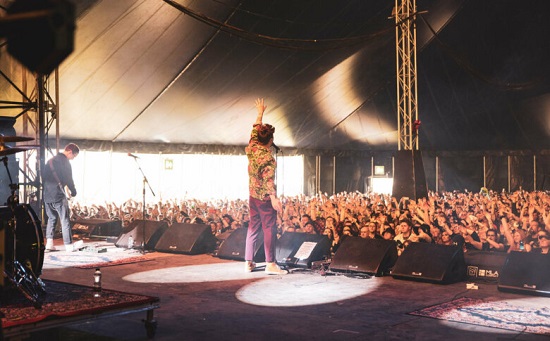 It's worth mentioning that while they're putting on a great show and people are into it, the sound is a bit off for them sadly. There is way too much bass and the bass drum is super loud which is drowning out the guitar. Despite this, looking around and seeing so many people having a fantastic time regardless, clapping, singing along, and screaming every time they finish a song is heartwarming.
A quick dip back to the press area and a lovely chat with Paul from Death Blooms, I hurry back to the Dogtooth stage for Bleed From Within. Barely seconds into the start, pints are flying everywhere and the crowd is going wild on the Dogtooth stage's somewhat uneven ground. Honestly this tent is absolutely packed, I'm barely inside and it's shoulder to shoulder all the way back to the entrances! Hopefully on their next return will see them jump up a stage, maybe openers for second or main?
Smashing through a solid mix of old and new, the Glaswegian metalcore outfit are going for an all-star bangers set here. 'Stand down' going down a bloody treat, people shoving by me every other minute to get to the centre for the pit. I'm staying cautiously a bit further out because I've still got a lot left to do this weekend! Admittedly I'm holding out for 'The End of All We know' since it's one of the biggest bangers I've heard in years! Just looking around, they announce what they're playing and I can see faces light up in excitement about it, what a joy to see that. There's an insane amount of crowd surfers coming across the top too, like one every ten seconds almost constantly, no doubt Scott will be loving seeing this response!
Finishing with 'This Is The End of All We Know' and getting my fix of my favourite song, the crowd gives it their everything. A massive pit, crowd surfers and an army of people screaming back the chorus: superb.
I've found myself a nice little spot to the left of the main stage for Deftones, opening up with 'Genesis' from their 'Ohhms' album, we're off to a strong start. Now into 'Rocket Skates', a belter of an album opener from 'Diamond Eyes'! Even 'Be Quiet and Drive' and 'My Own Summer' are so early in the set, this is crackers! Deftones are a Download favourite, and going by the size of the crowd that hasn't waned in the slightest! We're even getting 'Swerve City' in this set, legitimately one of the best riffs they've ever written!
I was honestly expecting a set that errs closer to their 'Ohhms' album but this so far is fully a 'best of' set, with what they've played so far and continuing with 'The Butcher'. Even 'Sextape' in there; honestly I don't think I could have wished for a better set. No sooner do I say that but next on is 'Diamond Eyes'! Sadly, due to the delay in them getting on stage, I have to depart to get to the Avalanche stage for Funeral For A Friend, but I think I'm more than pleased about what I heard!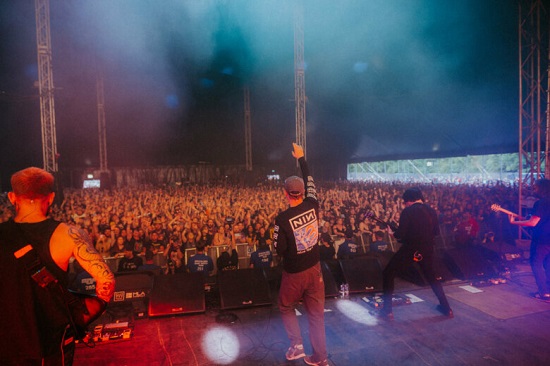 The Avalanche stage is absolutely heaving here, most people look to be around the same age as me as well. If this is going to be the last time I get to see this band live, then I couldn't think of a better place for a send-off. The gigantic crowd they've drawn here knows every word to every song, there's little doubt that they'll be loving every moment, with 'Rookie Of The Year' getting a swell of voices in response, another heartwarming moment to witness here at Download.
With the older tracks, 'Bullet Theory' gets the crowd going wild! Essentially the setlist is more or less the same as the one I'd already seen in Manchester a short while back, but I'm not complaining in the slightest. The further we get through the set, the more I feel like I'm getting closer to closing a chapter on my life. Funeral For A Friend have been a band that I've been listening to for many years and I know that sometimes things need to end for one reason or another.
'Juneau' gets the entire crowd singing the whole song right back at the band, in some parts quite literally drowning the band out. And finally, playing out with 'Escape Artists Never Die', I don't think they could have ended it in a better way. I am going to miss these badly.
Download festival has been a fantastic way to send off Funeral For A Friend's legacy, celebrating the first three albums that were major parts of my teenage years. Thanks for all the music, I don't doubt I'll still be spinning your albums for years yet.