Written by Linzi A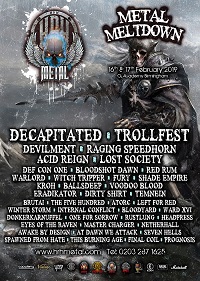 It may be only January, but it's hard to believe that the festival season is already just around the corner, kicking off with the third iteration of the HRH Metal shebang in the global capital of the genre – that's Birmingham, mofos – next month.
As part of the build up to the 2019 instalment of the annual celebration of the heavier end of the rock 'n roll spectrum, I dialled up the ÜRHQ hotline to Newcastle-Upon-Tyne for a chat with the gentlemen from Def Con One, to find out about where they are now and where they are going in the near future (well, apart from down the motorway to the Midlands, of course!). I started by asking them if they have anything special lined up for their return to HRH… 
Antton (Lant – drums): Well, now that would be telling wouldn't it… you'll have to wait and see, lol!
Are there any bands in particular you are looking forward to seeing while you are there?
Antton: Well, I've got a lot of friends playing this year too so were coming down for the whole fest, we gotta check out Ballsdeep and Left For Red, Internal Conflict, Seven Hells, Devilment… hey, I could be here all day, I tell ya! We will be watching as many as possible; [we've] got some interviews lined up, so I hope they don't conflict with stage times.
Danny: Decapitated, been a fan for many years. 'Day 69' is the best metal song ive heard. Its brutal.
It is indeed! What is it about the HRH Metal Festival that draws you in as a band?
Antton: We played here a few years ago and it was great. I loved the fest so when we were asked to play again I jumped at the chance. It's an honour to share the stage with these bands and I have some good friends playing too, so that's gonna be killer.
You guys saw out the end of 2018 supporting the fabulous King 810: what was that like?
Antton: Absolutely killer. We were busy working on the new album and relocating to a new rehearsal room, so everything was up in the air. Then I get the call asking us to open up for them. We had six days' notice and it was a massive "fuck yeah, let's do this"! As most of the band are new faces, I wasn't sure how we were gonna go down with fans of the old stuff… I was 100 per cent confident in every member that we could do this and crush some skulls – and that's exactly what we did. We got a great response to the old tunes, and the new one. Im well chuffed with the response.
Danny (Hagar – vocals): Supporting King gave us an opportunity to show many people the new line-up and play some new style tunes. We were well received by all who came to see King.
If you were to describe your music to someone who hadn't heard or seen the band before, how would you describe yourselves?
Antton: Brutal Groove Metal. Pretty much sums up what we do, I think.
Are there any bands/performers who inspire your live performances?
Antton: Tons and tons. In the early days you mimic your idols, but as you get older and more confident in what you do your own character comes out. I try my best to give the audience 110 per cent.
Danny: I'm inspired by Waylon Reavis and Jeffrey Nothing. Awesome talents and stage presences.
What music are you currently listening to at the moment? What would we find on your Spotify playlist?
Antton: I don't have Spotify. But I listen to the same stuff I did when I was a kid, lol! My car has a six CD changer and it has six AC/DC CDs in there!
Danny: Listening to A Killers Confession's new release and Fear My Thoughts' 'Isolation' album.
Crol (Dunn – guitars): I'm listening to Meshuggah, Stuck Mojo, Tool, Anderson Pakk and, of course, the mighty Pan Fuckin Tera!
What's next for Def Con One? Any upcoming tours? Anything exciting you'd like to mention?
Antton: We really wanna get this album sorted and in the bag. It's sounding massive. When we released 'Martyr To The New Blood' I was overwhelmed by the responses. My inbox lit up and my phone went nuts… seriously. I've never ever had a response to a track like this. I knew it was a killer track but your never sure how fans and press etc will take something and, honestly, I was floored by the response. Thank you all for your support and kind words.
Finally, is there anything you'd like to say to your fans?
Antton: Thank you. Thank you for the support over the last couple of years. I appreciate all the messages I received and I'm so thankful of you guys for waiting for me to pull this together. I had to find the right guys and it took a while, but [it's been] well worth the wait, so thanks.
Danny: I'd like to say to the fans, change is inevitable, and I know they will appreciate the new songs and extra influences we all bring. It'll make for a great experience.
HRH Metal takes place at the O2 Academy in Birmingham on 16 and 17 February.