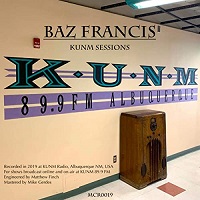 Regular ÜR readers will be more than familiar with the name Baz Francis. The singer has been a supporter of the site since its inception, and we in turn have supported him, building a strong friendship with one of the true gentlemen of rock 'n' roll in the process.
Last week, not one but two new releases from "Camp Baz" came our way. The first was a single 'Happier Alone/'Until We Work It Out Tomorrow' from Mansion Harlots, his first band, which he resurrected for last year's 'All Around A Fairground' album. The two songs making up the single were recorded for ARA City radio in Luxembourg.
Just two days later, a solo EP followed:  this time it was a solo offering, but again it was drawn from a radio session, this time with KUNM 89.9 FM in his adopted home city of Albuquerque, New Mexico, and featuring seven songs from his back catalogue.
So, I needed no better excuse to fire up ÜRHQ's trusty Skype and grab a chat with the ever-amiable Baz to talk about the releases and future plans, including new albums from Mansion Harlots and – at long last – Magic Eight Ball:
'Happier Alone'/'Until We Work It Out Tomorrow' is out now. You can get your copy HERE.
'Baz Francis' KUNM Sessions' is also out now. You can get your copy HERE.
www.facebook.com/bazfrancismusic
All content © Über Rock. Not to be reproduced in part or in whole without the express written permission of Über Rock.