By DJ Monk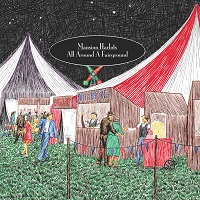 It is no secret that Baz Francis is a good friend of Über Rock, and that we are big fans of both the man and his work. He has been there for us when we have been at our lowest, always sending an encouraging word, and his music often has helped us out of the depths of despair and shown us that there is indeed light at the end of the tunnel. So, when he told us he was working on a new project, well, there was a palpable air of anticipation at ÜRHQ; not that we held our breath waiting for it, as everything Baz does he takes his time over… and what he was working on turned out be not exactly new in the truest sense of the word…
You see, Mansion Harlots trace their roots back to the late 1990s, when Francis first teamed up with long-term on-off collaborator and schoolmate Will Gray. Burning brightly for just two short years, the band recorded two demos and performed just one live show before splitting up, Baz going on to form the magnificent Magic Eight Ball and Gray to join Satellite State and ultimately Atlantic Fires. Wind the hands of time forward two decades and the pair have finally fulfilled their dream of releasing a full-length Mansion Harlots album.
The sound and feel, as well as the lyrical themes, of 'All Around A Fairground' will be familiar to long-term fans of Francis and M8B, as they all inhabit very similar territory, both sonically and thematically. Not that that is a bad thing: after all, Francis does have a quite distinct vocal style, which you would not expect him to even attempt to disguise. And it is a familiarity which also helps ease you into the experience of this particular album, as it doesn't throw you any curveballs or take you up any unexpected back alleys. Instead, it just reaches out to, invitingly and warmly, and politely asks you to enjoy the experience of its totality.
Despite addressing some quite dark issues in places, 'All Around…' has an overall joyous feel to it. And while it also embraces different styles, from the crunching guitar on opener 'Come Back For More', the uplifting melancholia of 'Happier Alone', the unadulterated joyous pop of lead single 'Panda Eyes', the lilting Californian psychedelia of 'Leave Me In The Shadows' and the beautiful irony of 'Lover, What D'ya Put Me Through', it does so with an easy transition, flowing with gentility and a deceptive sense of tranquillity, the sign of seasoned professionals who know what they are doing and exactly how to transform that into an extremely pleasant listening experience. All combined with Francis' stunning sense of lyrical sensibility: lines like "it's like putting a Band Aid on a broken bone" are just genius incarnate.
It could be argued that 'All Around A Fairground' has perhaps been released at the wrong time of year. It is an album that would be better enjoyed while sitting in the back garden with a nice glass of wine and a chilled beer or three, rather than while sat shivering in the middle of freezing cold December. By the same token, however, it is almost the perfect soundtrack for chilly winter nights curled up in front of the fire with the candles flickering in the breeze from the badly fitted double glazing, as it exudes that satisfactory warmth of a loving embrace. Either way, it is a work of art worthy of its own room in the Tate Modern.
'All Around A Fairground' is released next Friday (18 December). You can get your copy HERE.
www.facebook.com/mansionharlots
All content © Über Rock. Not to be reproduced in part or in whole without the express written permission of Über Rock.