By Jason Walker
Earlier this month, I had the great pleasure of reviewing 'Rise Radiant', the excellent new album from Australian progsters Caligula's Horse, which is released next week via InsideOut Music. Well, they must have liked what I had to say about it, as the next thing I know I've been invited to fire some questions across the interweb to the land down under, and specifically to guitarist Adrian Goleby, to ask about the album, songwriting, his memories of touring in different territories and choosing setlists…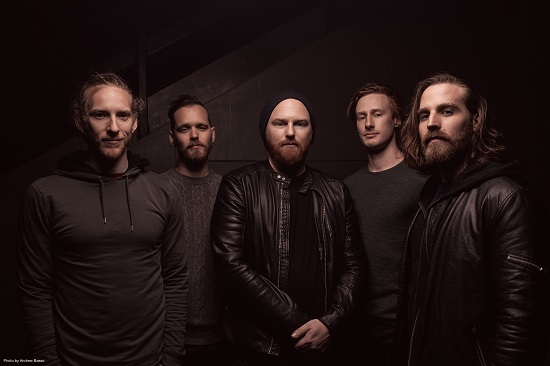 I started off by congratulating him on album, 'Rise Radiant'. I told him that I've been a big fan for a while and had actually caught the band in the dingy Star & Garter in Manchester with Circles, IBTS and my friends in Sertraline!
What a night that was! That must have been the second last show of the tour. But, my distinct memory of that gig was Ro's Hi-5 wall of death and having brand-spanking-new underwear on. We were five weeks into a tour and totally mad!
How has the response been so far to the impending release of 'Rise Radiant'? have you seen much feedback for the singles so far?
Sometimes it feels like when you haven't had any mail in weeks and one day your letterbox is being stuffed to the brim. It's unbelievable; people are really backing us! 
How was the writing process for 'Rise Radiant' in contrast to previous albums? Was there any significant changes or was it similar to the older albums?
The most significant change has been having every member of the band sharing a writing credit on at least one song on the album. It's quite a plunge to put in your musical ideas alongside Jim [Grey – vocals] and Sam [Vallen – lead guitar]. They've got a short-hand process that they've worked hard to cultivate and streamline. I see them as a filter for the ideas that best fit the feel of the album. We try to be quite deliberate about ideas that were implemented to help embolden the tapestry that holds this album together. Also, 'Valkyrie' features my first guitar solo on a Caligula's Horse record. Sam hit me up about it during the writing process, and it turned out to be a really great feature of the song. Maybe on the next album we can have a 'Hotel California'-esque never-ending guitar solo duel.
…Okay maybe not.
Can you expand a bit on the common themes and story behind the album?
Of course! This a more thematic album, especially in contrast to 'In Contact' – which had a narrative element that was continuous throughout the album. We were striving for something that could twist and turn without losing sight of the overarching themes of perseverance, growth and fatherhood. 'Rise Radiant', as a statement, really represents not just who we are as people right now, but also how we're maturing and growing as a generation.
On your next tour cycle in support of this album, do you think you'll lean fairly heavily on the material from this album or stick mainly with the singles?
That feels like an eternity away right now doesn't it? It all depends on time and context! Mainly time! How do you choose between 'Graves' and 'The Ascent'? That's like choosing between hot coffees in cold weather, or cold coffees beside a heater… also in cold weather.
We've serviced a lot of the older material with the 'Let It Grow' and 'In Contact' tours in Australia. So, that might mean that in Australia we'd want to show everyone where we're at currently. But overseas, (especially the US) we are freer to delve into the older material. Personally, I'd love to watch Josh play some stuff from 'Moments'!
Is there a chance you might be sticking 'The Ascent' in your setlist?
If we do, I'll be thinking about this question every time we play it! 
As with a lot of prog focused bands, song length often tends to lean itself towards longer songs, is there any difficulty choosing which ones to use in live set lists?
To elaborate on this a bit more, we like to have a repertoire up our sleeves so we can change up the set a little bit on any given night. It gives us some freedom to read the room or the situation and make each show just a little bit more special. Our shows are for the audience foremost. I have a special memory from a gig last year (remember last year? What a time.), we were in Chile and to our total surprise, we ran into a fan that we'd met at the (now deceased) Be Prog My Friend! Festival. He insisted that we played Into the White, a song that we genuinely had no intention of playing on that tour, but being fresh off the Let It Grow tour, it was still sort of in the fingers. In those moments, it's easy to choose a song that will change someone's perception of what a show can be for them!
One thing that often stands out with Caligula's Horse in general is that it's very accessible prog, with memorable hooks and catchy choruses, is there intention behind this or is it just a natural process?
I can't really speak for the other guys as far as the details go. But from my perspective, I think our own particular filters are quite honest with how much we love a good hook. Jim is remarkable in his ability to think about vocal shapes. And Sam is a force of musical nature that rides a line between intrigue, unpredictability and familiarity. 
Australia certainly seems to be leading the way when it comes to prog and metalcore right now, I'd say with regards to bands that come to the UK that you're definitely one of the pack leaders in this – is there any contrast between the scenes and crowds you play to in Australia vs Europe and North America?
Thanks! We're not entirely sure how to measure a musical leaderboard, but we're very lucky to be surrounded by such a talented group of peers. Especially being with Inside Out!
There is almost an uncountable amount of differences! The stage is a very unique place to observe from when you think about it. Once you've settled into the groove of a show or a song, you can really enjoy the up and out experience that comes with playing to a completely different cultural background.
There was a strong gift-giving culture in Latin America (seriously, mind-blowing!) Europe is a paradise of connection inside the venue. The security guards are great, the bar staff are always up for a chat and the catering. The. CATERING. The UK is always a funny experience, you guys are our closest rivals and think you can do our accents. You can't. But we appreciate the attempt! I have some fond memories of playing with Anathema, those guys are hilarious with us.
We're not sure on the US just yet. Progpower USA was a masterclass in hospitality and professionalism! 
When you first toured outside of Australia, did you have any interesting or amusing situations happen? Any culture shocks or the like?
A few memorable highlights include:
France – 10pm daylight and the busiest gyms I've ever seen in my life;
Switzerland – home-cooked vegan catering;
Santiago – A priest moshing hard in the front row and then joining us for some friendly beers backstage;
US – What is Chick-Fil-A?
Do you feel there's an element of camaraderie between bands and artists in the Australian scene?
Without a doubt! We've learned some very important grassroots skills here. I think Australian bands increasingly equip themselves with the ability to use distance as an asset. When you tour for the first time over here, it's a big step and there's a lot of uncertainty around the right way to go about it.
I'm also in a privileged position as a filmmaker. I work with Australian bands every single day of the week. From music video shoots to interviews – it's always a pleasure when I can help them realize their vision!
It's a shame that 2020 certainly seems to be a bit of a write-off for live shows but looking forward to 2021, are there any plans in the works for making a return to the UK?
There's always plans in the works! It's all one step at a time at this point but as soon as travel bans are lifted, we'll be back in the same airports eating the same plane food to bring some happiness wherever we can!
'Rise Radiant' is released on 22 May. You can get your copy, and loads of other goodies, HERE.
www.facebook.com/caligulashorseband
All content © Über Rock. Not to be reproduced in part or in whole without the express written permission of Über Rock.