By DJ Monk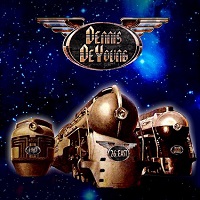 You don't need me to tell that, when the Covid-19 pandemic first hit, and the world went into almost complete lockdown, the music business similarly initially came to an almost complete standstill. Not only were all live events immediately cancelled, but another major side effect was that on the release schedules for many albums, as CD and vinyl pressing plants were forced to close their doors, meaning that orders could not be fulfilled according to their original timetables. One label badly affected has been Frontiers Music: after all, the company is based in Milan, the epicentre of the disease in Italy especially. There was no choice but for them to push all their planned forthcoming releases back by at least a month… which is why this sixth solo album from former Styx frontman Dennis DeYoung is one of several Frontiers products only seeing the light of day this time next week, instead of last month as originally planned…
'26 East…' takes its title from the address where DeYoung grew up in Roseland on the far south side of Chicago, and where Styx was formed in his basement in 1962. Across the street lived the Panozzo twins, John and Chuck, who along with DeYoung would go on to form the nucleus of the band. The cover artwork features three locomotives travelling through space, representing the original members leaving Chicago's Union Station on their journey to their future international stardom. While the now 73-year old DeYoung previously announced this would be his last album, more recently he revealed that "there were so many songs written that Serafino Perugino, CEO of Frontiers, suggested dividing it into two albums rather than one… This is 'Volume 1', which sounds pretentious to me, but the marketing folks wanted you to know there are going to be two of them…"
The spark for the project, which lyrically traces DeYoung's journey from the Southside to the present day, was initially lit by that other renowned Chicago songsmith, Jim Peterik: remarkably, despite growing up close to one other and being friends for decades, they had never collaborated before this, but they have made up for lost time, with Peterik contributing to half of the ten songs on '…Volume 1' (and another four destined for its sequel).
The first thing that strikes you is how good voice DeYoung is still in: in fact, this latest release shows that he has lost none of his vocal power, as he resonates with the same enthusiasm and impact which he did in the heyday of Styx's career. And, while it may be 21 years since he was unceremoniously kicked out of the band he founded, there are elements which will remain more than familiar to long-term fans of his former group, no less so than on opener, and lead single, 'East Of Midnight', with its multi-layered vocal harmonies and bombastic keyboard swirls and pumps.
Yes, there are some elements of cynicism, but an artist of the pedigree of DeYoung can afford a sly insult or three, maybe (despite recent reports of a possible reconciliation/reunion) aimed at some of his former bandmates, maybe at certain jumped up "media personalities": "with all due respect, you are an asshole/with all due respect you make me sick… with all due respect, you don't deserve no damned respect!"
Elsewhere, some of the lyrics are a bit twee – but, then you could say that about a helluva lot of AOR-style songs that have been released over the years, and not all of the songs quite hit the mark: the first of the two back-to-back ballads 'You My Love' could have done with a bit more underlying oomph, especially in the orchestration, rather than the Eurovision-esque treatment it has ended up with; 'Run For The Roses', on the other hand, works because of it's stripped-down nature, with the emphasis on drawing out the depth of DeYoung's still impressive range. And if you want to find the really twee, or cheesy, look no further than the cringe-worthy duet with Julian Lennon…
'26 East…' may be a reflection of an artist looking back over a career spanning almost six decades, points emphasized on the aforementioned Stygian vibes of 'East Of Midnight' and later on 'Damn That Dream', 'Unbroken' and 'The Promise Of This Land', but it is also, by and large, a relevant and vibrant album in its own right. Yes, it does sound dated in places, but that perhaps is a deliberate move, given the professed autobiographical nature of the project – and when you've been around the business as long as DeYoung and his contemporaries, then you can more or less do as you damn well please.
'26 East: Volume 1' is released next Friday (22 May). You can get your copy HERE.
www.facebook.com/Dennis-DeYoung
All content © Über Rock. Not to be reproduced in part or in whole without the express written permission of Über Rock.