By Jason Walker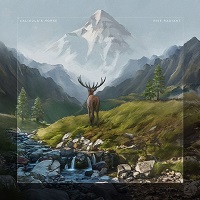 Caligula's Horse are one of the slickest and most refined examples of how Australians do prog metal. Each release from them oozes style and quality and their most recent release stays true to this because after all, why fix what isn't broken?
'Rise Radiant' is the follow-up to the absolutely fantastic 'In Contact', which oddly didn't feel like it was released that long ago despite it coming out in 2017. To give a bit of an overall summary of the sound, on the whole it's very similar sounding to 'In Contact' but that's not to say more of the same is a bad thing by any stretch. 'Rise Radiant' while continuing many of the hallmarks of their sound, boasts its own identity in a big way, and at just eight tracks they've opted to focus on outright quality with each song, of which the track length varies wildly.
One thing I do love about prog in general is that there's very little of what constitutes a boundary in regard to songwriting. The disparity in song length between the somber, ambient sound of 'Resonate' only being about two and a half minutes long, compared to the album finale epic 'The Ascent' at nearly 11 minutes long. As with most prog epics, Caligula's Horse don't shy away from extended instrumental passages interspersed with lyrics that tell a story, Jim Grey's wonderfully tender vocals give way to his signature forceful highs and back again against a tapestry of intense guitar work.
The first track and initial single from this album, 'The Tempest' worked as a fantastic introduction to this album, the melodic yet ambient verses, the intense build of the pre-chorus before the grand chorus – all very much hallmarks of Caligula's Horse. Track #2, 'Slow Violence' oddly enough is the second single from this album, and while not as heavy as 'The Tempest' is by far the more rhythmic of them both, has quite a strong Karnivool vibe to it that reminds me of 'Themata' (seriously though, the Aussies have this prog stuff down to a fine art right now).
'Salt' is quite an odd little number, an extensive song at nearly eight minutes long, it cycles through passages that are quite disparate in their sound, going from minimalist verses to a chorus part that finishes with sounding like big-band swing. I'm really digging all the layered vocal work in this though, I often find that accenting vocal melodies is underused and underappreciated, bloody tasty little guitar solo in this too.
Given the lengths of 'Oceanrise' and 'Valkyrie' I definitely can see either one of these being coined for a third single from this album, if there is to be one however! Both are strong, punchy offerings but I think 'Ocreanrise' would be the better one purely on the strength of its chorus, it's complete singalong material, also I might totally have a soft spot for the lovely thumpy bass in it and that damn sexy guitar solo. This isn't to say 'Valkyrie' is worse because I can assure you it bloody isn't. Do you want an angry, technical song that sees Caligula's Horse veer into Monuments territory? Yeah, this is it.
Another near eight-minute-long song sees 'Autumn' as the lead up to the aforementioned album's epic finale. It seems almost customary for them to have a quiet, or acoustic song for each album and this serves to give you that little palate cleanser before ripping you a new one with 'The Ascent'. 'Autumn' is a nice, sombre listen on the whole, I genuinely think it'd be a treat to hear this in a properly stripped-down acoustic session, it's got some brilliantly tasteful guitar work in it.
Caligula's Horse really showcase that they're worthy of being one of Australia's premier prog metal bands right now, and one of the most solid and consistent parts of their scene. Having seen them in Manchester's Star and Garter venue a while back, I can't wait to see them again, top stuff.
FFO: Karnivool, Circles, Voyager, The Helix Nebula, Plini
'Rise Radiant' is released on 22 May. You can get your copy, and loads of other goodies, HERE.
www.facebook.com/caligulashorseband
All content © Über Rock. Not to be reproduced in part or in whole without the express written permission of Über Rock.