By Jim Rowland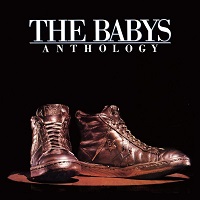 Every now and then an album drops in your lap by an old band you know about, and you know you'd like, but just never got around to actually hearing them. Such is the case for me with The Babys. The album in question is a rather fine vinyl reissue of 'Anthology', originally released in 1981 just after the band's demise the previous year.
Although hailing from the UK, The Babys swiftly relocated to the United States even before they had recorded their first album. This was probably a wise move considering the five albums they made between 1976 and 1980, which coincided with the rise and fall of punk in the UK, were very much centred around a melodic rock/AOR/power pop sound more in tune with the American market at the time.
Signing with Chrysalis Records for a significantly huge fee for a new act at the time, The Babys would go on to achieve reasonable success Stateside, scoring two Billboard top 20 hits, but never quite achieving the commercial success the band, and their many fans, felt they deserved. These days The Babys are just as well known as a starting point for two of their members – vocalist John Waite, who would go on to have considerable solo success in the 1980s, and keyboard player Jonathan Cain, who appeared on the band's last two albums and would go on to join the ranks of Journey that same decade.
The ten tracks on 'Anthology' span those five albums – 'The Babys' (1976), 'Broken Heart' (1977), 'Head First (1978), 'Union Jacks' and 'On The Edge' (both 1980), all albums that are beloved of those rock fans that these days can hold their heads up high and proudly proclaim to be melodic rock/AOR fanatics. The melodic hard rock of 'Head First' and 'If You've Got the Time' are reminiscent of The Babys' Chrysalis label mates UFO in one of their more melodic moments, 'Back On My Feet Again' and 'Turn And Walk Away' are quality slices of full on AOR, and 'Give Me Your Love' fuses that AOR favour with the kind of soulful blues power of Bad Company.
Elsewhere, the more finely tuned 'Isn't It time' and 'Every Time I Think Of You' have big, lush productions with brass and strings, and it's not surprising that these were the two singles to hit the Billboard top 20 at the time, whilst 'Midnight Rendezvous' and 'Sweet 17' hit the heavier end of the scale with a definite Foreigner feel to them.
'Anthology', reissued here on a heavyweight clear vinyl edition, is a pretty perfect way for those partial to a bit of melodic heavy rock to get acquainted with what The Babys had to offer, and it's quality stuff for sure. The only trouble is after a few listens you'll be sorely tempted to put your hand back in your pocket to get all the albums these tracks came from. As for The Babys themselves, original members Wally Stocker and Tony Brock, who both spent time in Rod Stewart's band at one point, reformed the band back in 2013, without Waite and Cain, and continue to tour many of these songs to this very day.
'Anthology' is released on Friday (29 July). You can get your copy HERE.
www.facebook.com/TheBabysOfficial
All content © Über Rock. Not to be reproduced in part or in whole without the express written permission of Über Rock.