By Jase Walker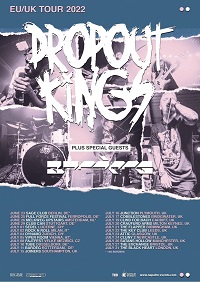 In the midst of a 2022 festival season now in full swing, Dropout Kings have been hammering out a pretty bloody extensive tour throughout the ÜK with Borders in tow hot off the back from two great slots at Download Festival and TechFest. Tonight's stop at Manchester's famous Satan's Hollow venue brings along In Depths along for support.
Despite the late doors, In Depths are on promptly bang on 7pm. Some brief initial vocal issues quickly but were seen to and storming straight into groovy eight-string riffs accentuated by a similarly large six-string bass. Despite the setup though, the actual grunt doesn't seem to carry particularly well as I can't really hear or feel the bass much which is a shame but the setup in Satan's Hollow often doesn't help much. To the guitarist's credit though, these are some solid grooves he's kicking out but it feels like it's main focal point above the rest of the band.
A few bobbing heads around the audience signals there's people that are clearly into it but I feel like it misses the mark a bit for me. A bit of a mix between me not being super keen on this style of brutal, all killer type metal and the sound generally just being a bit off. I can imagine they'd sound much better in a bit more of an enclosed space, so their sound bounces around more. They've clearly won over a few of the early arrivals, so always seems to be a win for a band when you get people on side so early on in a show.
Wasting absolutely no time with the changeover, Borders are now in session, returning to Satan's Hollow after a number of years. I'm interested to see if they've pulled off getting Dropout Kings working with their guest spot on 'NWWM'! Third time seeing these this year, and I'm still every bit as hyped! Ever animated on stage, every part of the band is a flurry of movement on stage, the floor thumping not only to the rhythm of the drums but them all stamping along on stage. JJ orders everyone to the floor for a new unreleased track and my creaky knees pop all the way back up, leg day yesterday still killing me!
What a riff though! Borders know how to make a proper tasty groove and the new song is going down a storm getting a pit going in Satan's! Gurn city! A 'Purify' favourite with 'War' sees the whole crowd bouncing along and screaming the words back all the while tearing up the floor with a pit. Not stopping with the big bangers though, 'Bad Blood' comes charging in with its chuggy hook and the crowd is eating it up, eagerly wanting more. With every passing chug, each visceral breakdown, it's clear that Borders are still putting every single drop of effort into this performance even this far into the tour.
It's 'NWWM' time and I'm eagerly awaiting to see if they pull off the feature and seeing the microphone get handed over, it's happening! After chatting to the guys at TechFest and asking about this, I'm overjoyed to see they've managed it! Finishing with 'Fade To Black', Borders put on display every reason why I love them so much, aggression, banging riffs and a live performance that just does not let up the whole time they're on stage. Big up lads, you should be proud of yourselves.
And finally for the headliners today, Dropout Kings! Starting off with both singers rapping in sync before the rest of the band come on stage and start bashing out some filthy riffage! I've not listened to or heard of these prior to this gig barring the feature with Borders so this is all new to my ears and I'm already on board. Given my age and getting into metal during the nu-metal peak, I'm no stranger to rap metal thanks to bands like Linkin Park, Limp Bizkit, Body Count, and even Korn and Slipknot using it.
Clearly standing on the shoulders of giants, Dropout Kings are whipping the crowd into a frenzy right from the start. There's something distinctly American about their delivery as well, the riffs have the nu-metal greats written all over them and the aggression of the two rappers at the front showing off influences from Beastie Boys, Rage, as well as some good old fashioned hip hop.
Seeing how much this show is packed out is amazing to see as well, I've been here to gigs that have been surprisingly empty but not tonight, Satan's is heaving and everyone here is going for it! This whole performance is incredibly raw, brash and in your face, not a single person in Dropout Kings is staying still for more than a split second, getting in the crowds faces, climbing all over the barriers and going wild!
Rapid fire lyrics, crushingly heavy riffs, all laced with a punk attitude. I'm caught right in the middle of the crowd all losing their fucking minds, trying to keep up with them spitting words out at a blistering speed. Not only that but Dropout Kings return the feature favour by getting JJ from Borders up as well! This isn't the only feature tonight, as a young lad, Caleb, gets up to smash out a drum solo on a kit that dwarfs him. He's an incredible player though, and the solo he's kicking out is complex enough to make any seasoned metalhead gurn!
I love discovering bands in this way, trying to absorb it all while surrounded by people going apeshit, it's the best. Considering this is Dropout Kings first time doing a ÜK tour, they've left the mark here and Manchester's brought it on a Tuesday night. Absolutely bonkers show, hopefully they won't stay away too long!
I think my ears will be ringing for a few days after this.
The tour finishes at the Black Heart in Camden tonight (Sunday 31 July).
All content © Über Rock. Not to be reproduced in part or in whole without the express written permission of Über Rock.