By Monk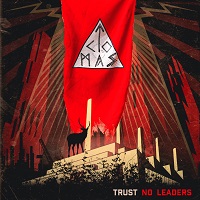 The full name of this band – The Chronicles Of Manimal And Samara – may sound like the title of an arcane children's TV animation, in vein of 'Masters Of The Universe', 'Battle Of The Planets' or 'Thundercats', but there is definitely nothing cartoonish about this sophomore album from the London-based avant-garde duo, even if their sound is a pastiche of various genres stuck together with double-sided sticky tape.
TCOMAS have certainly produced an eclectic and intriguing sophomore album, switching gears more efficiently than Lewis Hamilton through the chicane at Silverstone and styles more times than Lady Gaga on steroids. They (being Singapore émigré Daphne Ang and Italian-born Andrea Papi) dive between industrial noise, gothic noir surrealism, BM brutalism, sangfroid-soaked torch singing, post-punk density and sheer unadulterated noise rock with aplomb and a je ne sais quoi attitude that is both refreshing and intimidating, as they demand to be heard and reward us for doing so.
Despite the apparent, disparate variety of styles outlined above, 'Trust No Leaders' (what an apposite title in the current circumstances) is a surprisingly cohesive album, the various swings and roundabouts of its sounds complementing and counterpointing each other. There are moments of sublime beauty contrasting with those of acerbic vibrancy, but these are put together with accuracy and a sense of mutual accommodation.
The overall result is as intriguing as a good detective novel, as you don't know what's around the next corner. And those corners lead us down some dark but wondrous alleys that explore the deepest recesses of the human condition against the mirror of our recent past and challenge us to do something to deliver a brighter future.
'Trust No Leaders' is out now. You can get your copy HERE.
All content © Über Rock. Not to be reproduced in part or in whole without the express written permission of Über Rock.