By Monk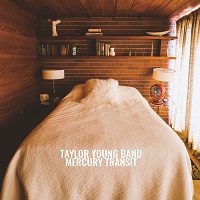 At my time of life, it really shouldn't do so, but it does intrigue me how the voices of certain artists continue to echo in our individual and collective musical memories. The other night, I was watching a recording of a gig by Tom Petty, broadcast on one of those obscure "arts" programmes that seem to populate the nether regions of our satellite channels. Needless to say, it was a classy, and timeless, performance… and then, the next morning, I popped this, the debut solo album from drummer-turned-singer Taylor Young into the ÜRHQ deathdecks – and it was like being transported back to the previous evening, such is the Petty-esque feeling that permeates this ten-track offering.
That's not to say that Young is a mere copycat, as he does possess a distinctive identity of his own: but, if you're going to draw from the archive of the Americana dream-pop store, then there are few better examples in whose footsteps you can follow than Petty. And Young follows them with aplomb and confidence, melding country harmonies and melodies with blues-infused riffs and a sense of laconic cynicism, the latter of which adds a surprising energy to the proceedings.
The likes of 'Shine On Me' and 'Rattled' bring a very early Seventies-era Lennon sound to the mix, with Young's fragile yet emotive vocals tugging and demanding attention, while the acoustic-led backing add to that sense of a fragile spirit pouring every essence into what he is singing. Elsewhere, 'Blue Eyed' is a bluegrass-style boogie that reminds of the Allman Brothers, while 'Daze Of The Week' and 'Wrong Place, Wrong Time' evoke the jauntiness of a back alley Noo Orleans dive
Young may be known to long-term ÜR readers as the drummer with Texas psych-pop acts such as Hi-Fi Drowning, Young Heart Attack and, most especially, The Polyphonic Spree. He first came to my attention when he stepped out from the kit, Dave Grohl style, with country-folk duo The O's and their excellent 2016 album 'Honeycomb'. By and large, this solo debut ploughs more or less the same ambient territory and so will deliver no surprises to those familiar with Young's previous output. Which is no bad thing: but, in this case, it is not one of familiarity breeding contempt but rather admiration for a talent obviously comfortable in his own abilities and mien.
'Mercury Transit' is out now. You can get your copy HERE.
www.facebook.com/TaylorYoungBand
All written content © Über Rock. Not to be reproduced in part or in whole without the express written permission of Über Rock.