By Monk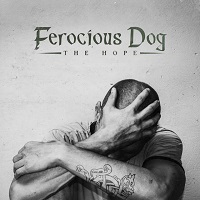 Let's be brutally honest: after the Covidications of the past 19 months, we all need some hope in our lives. And as the lights of that feeling grow brighter by the day, what more perfect way to celebrate than with an album that reflects on darkness yet portrays an optimistic future by epitomizing the strength of the human spirit to overcome the most severe of adversities? Well, that is exactly what Ferocious Dog do on this, their latest, stunningly crafted album.
Sonically, both Ferocious Dog and 'The Hope' touch so many bases, from The Levellers to The Wildhearts, The Wonder Stuff to Flogging Molly, Gogol Bordello to Billy Bragg, Frank Turner to Johnny Cash, The Pogues to Stiff Little Fingers, that it is almost impossible to list them. Rambunctious sea shanties sit alongside mournful, introspective, whiskey-soaked laments before being interrupted by bruising barroom brawl soundtracks that punch and parry with the effectiveness of a bareknuckle champion.
One of my few problems with the album is that some of the songs, such as 'Pentrich Rising', the title track – released as a standalone single to mark World Mental Health Day – 'Exiled Life (The Chase)' and 'Born Under Punches' fit better within the overall narrative rather than taken in their individual contexts, as they are integral parts of the story which the album as a whole tells. Not that this is to imply that this is a concept album: far from it; it's just that there is a continuity of themes that counterpoint, interact and juxtapose with one another throughout its length.
There are multiple thematic links: stories of angst-led rebellion, such as the aforementioned 'Pentrich Rising' and 'Exiled Life' as well as the beautiful 'Sea Shepherd', sitting alongside those of inner turmoil brought about by young men forced into wars not of their own making, in 'Broken Soldier', 'Khatyn' and '1914', which possess an apt poignancy that eviscerates their themes with precision and passion. And the closing interpretation of Hazel O'Connor's 'Will You', which features the lady herself, sounding incredibly like Marianne Faithfull, is simultaneously spellbinding and spinetingling. And these are adjectives that can also be applied to the rest of the album, which is a truly triumphant work of punk rock street art.
The result is an album that defies basic classifications such as "Celtic folk" or "folk punk" or any similarity. It's an album that defines lyrical storytelling, rooted in the traditions of the medieval minstrels, yet translated through the glass of modern-day punk rock spirit, spit and verve. All that's missing is a case of whiskey to wash it down… but I've just fixed that…
'The Hope' is released on Friday (15 October). You can get your copy HERE.
Ferocious Dog are currently on tour: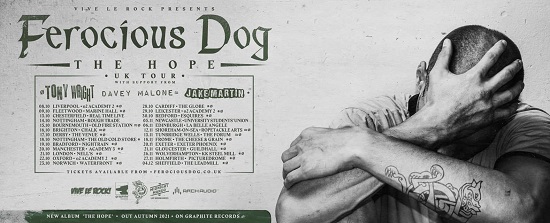 All written content © Über Rock. Not to be reproduced in part or in whole without the express written permission of Über Rock.