By Jonny Bakes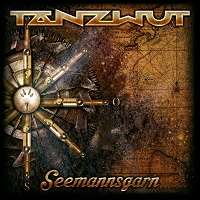 Bagpipes. Often a bit of a controversial topic, I've found! It seems that people either love bagpipes or they have a real passionate hated for them. Me, I make no secret of the fact that I'm a big fan of the bagpipes and I think that more bands should experiment with them. Fortunately, the latest release from Germany's Tanzwut had bagpipes in spades, so this will be an exciting ride!
'Seemannsgarn' (Sailor's Yarn) is the follow up to the dark offering in 2016's 'Schreib es mit Blut' (Write it in Blood) and ties in with the haunted mood of that album. The folk and medieval elements that form the backbone of Tanzwut's sound are complimented throughout the album with heavy industrial-like riffs and a generous pinch of bagpipes to provide a really rich sound. I'm impressed that the tracks flow seamlessly from the heavy bombastic sound into medieval bard ballads, it certainly kept me on my toes!
Unsurprisingly, all of the lyrics here are in German but have no fear of you don't have a grasp on the German language! While you may miss some of the nuances in the lyrics, it won't detract from your enjoyment of this album. Teufel has a deep haunting voice that adds to the overall mood of this album; without wanting to draw too many comparisons to Rammstein (The German-singing band that everyone knows), his vocals are similar to Till Lindemann's at times, but not exclusively. Tracks such as the vocal-driven ballad 'Ich bin der Nachtwind' (I am the Night Wind) show a more impressive vocal range that is rich with emotion.
Overall this is a great example of how different metal elements can be combined together to form something exciting. This is part folk, part medieval and part industrial which you would think that they would mix about as well as oil and water, but this is not the case! And, for me, is a great example of how well the bagpipes can complement metal music, particularly when paired together with heavy riffs.
It's a fairly lengthy offering at 14 tracks long, so I'll pull out a few of my favourites starting with the title, and opening, track – 'Seemannsgarn'. This is definitely a catchy number that opens with a gentle medieval-sounding instrumental that moves into a gentle crooning ballad before launching into the chorus where the bagpipes come into full force and those heavy riffs storm in to join them. This formula is repeated throughout the song resulting in a pretty powerful track that is bound to get stuck in your head as it did in mind!
'Der Puppenspieler' (The Puppeteer) is a balls-out heavy song from the outset. Another healthy dose of riffing and bagpipes accompanies Teufel's vocals to deliver this audio assault. Did I mention that there are two bagpipe players in Tanzwut? That's right: double the fun on the bagpipe front with the talents of Pyro and Bruder Schlaf (perhaps they are pseudonyms?) which means we are treated to some great bagpipe harmonies here.
A slightly more industrial direction is taken for 'Schmeide das Eisen' (Cut the Iron) with a heavy introduction assisted by Alexius on the keyboard to really add that industrial edge. This is a great track that really doesn't let up and manages to keep it heavy throughout, although I must admit that the intro instantly made me think of 2 Unlimited's 'No Limit'… Listen for yourself to see what I mean!
This next track had a title that really resonated with my inner… alcoholic and also made me realise that I knew more German than I remembered. 'Gib mir noch ein Glas' (Give Me Another Glass) sounds like a heavy rendition of a drunken chorus you might hear in a shanty tavern down by the dockside, maybe one where Sailor's weave their tales (or yarns, if you will). This one is definitely a personal favourite on this album, an opinion that must be shared by the band as we get the pleasure of hearing a second rendition of this as a bonus track, but this time with the assistance of the indie-punk band, Karbhölz.
So, if you are sat in the "I hate bagpipes" camp, fair warning that this album may not be for you. However, if you want to see what can happen when you try and mix industrial and folk metal, then this is something worth picking up. For the rest of you, I would recommend you check this out, you might find that a couple of these tracks end up in your most played and you'll also find a few surprises throughout the album…
'Seemannsgarn' is out now. You can get your copy HERE.

www.facebook.com/TANZWUTOfficial/
All content © Über Rock. Not to be reproduced in part or in whole without the express written permission of Über Rock.