By Jonny Bakes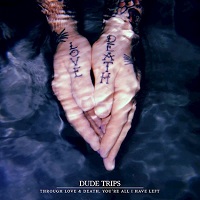 I'm not ashamed to admit it, I had my stint as an emo kid when I was in my early teens and I'm going to attempt to channel that for this review. It may have been buried by years of excess and metal, but we will see what we can do…
First let's take a look at the band, Dude Trips. This Scottish quartet hail from Fraserburgh and if, like me, you've never heard of the place I've been told that it's about as north as you can get. Given this cold unforgiving origin, I guess it's little surprise that these guys have headed down the Emo (or Alternative Emo) route. The music scene isn't particularly strong in Fraserburgh, and the band have mentioned that the only real musical outlet for young musicians was recently scrapped, forcing the lads to travel 40 miles south to Aberdeen – but this was a blessing in disguise. Aberdeen has opened up a whole new world of musical sounds and influences for them to draw on. This could explain why they instantly reminded me of my Aberdonian colleague's first band, evidently emo is very much alive and well in Aberdeen.
In relative terms this a very young band, having only formed in the summer of 2016, and to date have released two EPs – 'Sad Lads' and 'Keepsake'.
Their first full-length album, 'Through Love & Death, You're All I Have Left' is a real emotional album that explores some of the sadder things life – Love and Loss, Suicide, Break-ups. Some pretty heavy themes to get across there but these are often balanced by the upbeat riffs and punchy beats that really brought this genre to the forefront in the early 2000s. Unexpectedly the album has an almost 50/50 split of songs about love and songs about death, a fact that the band claims was quite coincidental. Throughout the album, the vocals of Shaun Ross and Jamie Mathers seem to suit well to both the upbeat songs and the slow emotional numbers.
I'll start with the first single to be released from the album, 'Documentaries'. Not because it's the first song on the album, but because it's just so damn catchy! Although some of the lyrics were amusing to me now, like 'My single bed never felt so good without you', if I take myself back about 15 years (yes it was that long ago) I can imagine it resonating with my edgy teenage self. Musically here, these guys are easily on par with the likes of You Me At Six or Kids in Glass Houses, so it's no surprise that they're already receiving praise from Kerrang! Radio which I would say is the perfect home for Dude Trips.
Another track that stood out to me is the dark number 'Kit'- a slow ballad about a 17-year old friend who unfortunately took their own life. I'll be honest, this song managed to trigger an emotional response from me which is no mean feat that's for sure! With lyrics such as "it's not fair you felt you had to leave",the band really get across their own emotions in response to this tragedy.
To lighten the mood this track was immediately followed by the far more upbeat '91' which is clearly one of the 50 per cent of tracks that are about love; Relishing those late nights spent together, her badly drawn tattoo, and the overwhelming feelings of devotion. We've all been there… right? Like most of the more upbeat songs, the drumming of Sean Mitchell seems to force my feet to tap along to the rhythm, no matter how much I try and resist!
One last standout track for me has to be 'Subbuteo'. It's a catchy up-beat song full of nostalgia that deals with everyone's least favourite aspect of life – growing up. The chorus, "Where did they go? Playing Subbuteo. I miss those days", pretty much says it all really, and even managed to appeal to this old-at-heart bastard! It really did manage to capture those nostalgic emotions.
Even though this is something that I wouldn't normally listen to, and it likely won't be making a regular appearance in my personal collection (nothing personal lads) this is a very strong album. This will definitely appeal to you if you like your music to be deep and emotional with a healthy dose of upbeat pop punk riffs. I wouldn't be surprised if these guys go from strength to strength in their niche and would definitely expect them to get a decent amount of airtime on Kerrang! Radio. Hell, if this had caught me 15 years ago, I have no doubt I would have bought it!
'Through Love & Death, You're All I Have Left' is out now. You can get your copy HERE.
Dude Trips play Broadcast in Glasgow on Saturday 6 July, Outcast in Liverpool on Sunday 7 July, FUEL in Cardiff on Monday 8 July, The Sebright Arms in London on Wednesday 10 July, the Hope & Ruin in Brighton on Thursday 11 July, the County Music Bar in Chesterfield on Friday 12 July and Temple Of Boom in Leeds on Saturday 13 July, with more dates to be announced.
All content © Über Rock. Not to be reproduced in part or in whole without the express written permission of Über Rock.