By DJ Astrocreep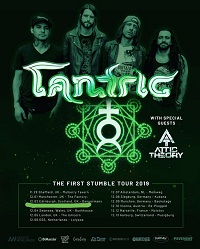 A coach across for the long round trip from Liverpool to Sheffield was in store for me as I venture out into freezing temperatures in only my usual patch shirt and band shirt to keep warm. The prize is the opening night of Tantric's European tour and on guitarist Sebastian's birthday no less, so Hugo tells us, with a few bands in support, including previous Singles Club feature choice Attic Theory. A good night of alt-rock and grunge should be just reward for the trip.
Traffic jams prevent me catching one band, whilst another has pulled out, so we are down to a three-band bill by the time I arrive, with Rothschild taking to the stage shortly after. The Leeds three-piece play a quite entertaining brand of alt-Rock as, despite the lack of crowd, they give their all and have a pretty tight set. A few sound issues also don't seem to affect them, as they power through regardless and do a good job in what is not the best circumstances to perform, with a minimum of fuss but a lot of noise. While it does edge uncomfortably close to becoming just noise on a couple of occasions, there are enough melodies both vocally and musically to hold the attention of the other bands and the couple of us in at this point.
Our main support then in Attic Theory, celebrating the release of their new single 'My Own Design' on the same day as this opening date of the tour. We get a six-song set from the Scouse alt-rockers/grungers and encounter similar sound issues to Rothschild before them, with 'Marionette' and 'Cold Hard Design' opening the set for us before the new single and previous one 'Saints Among Us' close the set. Despite vocalist Lewis singing for the first time in a few weeks, following tonsillitis, the set is well performed, a couple of raspy notes from Lewis apart as he gets back into it, with the new drummer being more firmly settled now than the previous time I had caught them, supporting Candlebox, when he had only recently joined. The twin guitars work well together, when we can hear them, as the sound issues continue to stack, and they make a genuinely good impression on the few extra people who wander in during their set.
Tantric time and the technical issues seem to be worse than ever, as Hugo's vocals are not always audible and Sebastian's mic and guitar both seem somewhat underpowered on the PA. I'm always surprised that, given their sound and the love of such music in the UK, how Tantric are not better known, given their 20-year career now, even if Hugo is the only remaining founding member. Their brand of alt-rock meets grunge is usually both effective and adored here, alongside other acts such as The Smashing Pumpkins or similar, with a more than hard rock edge adding depth to their sound, when it works properly through the soundsystem, something the band do their best to ignore as they work their way through a good set.
'Down & Out' and 'Astounded' are very welcome parts of the set, while a cover of Whitesnake's 'Is This Love', dedicated to guitarist Tim from Attic Theory just as he is outside fielding a call, gives the couple of people not very au fait with the Tantric back catalogue something to sing along to. The set is delivered over around an hour and a half to the delight of the few of us that are there supporting the opening night, with people obviously finding reasons not to attend giving a bad account of the city for hosting music. It's a great pity as, despite the numerous sound issues, all the bands I am able to catch prove to be very worthwhile, in terms of both talent and desire, while the few in attendance happy with what the bands were able to offer, even if the house PA was not so forthcoming.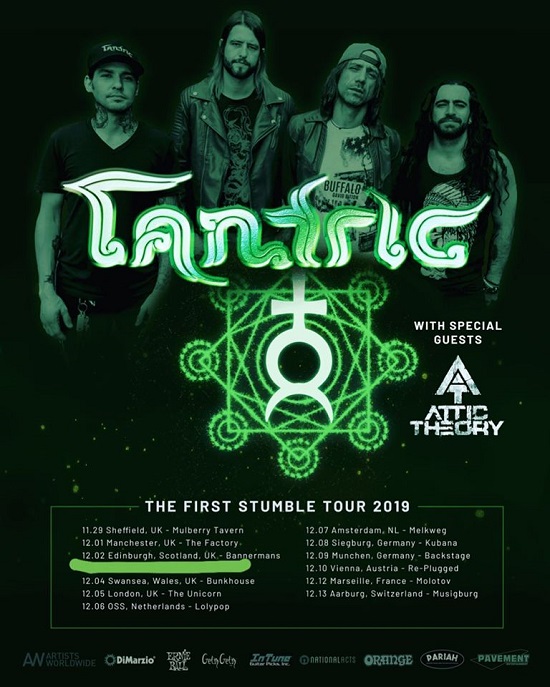 All content © Über Rock. Not to be reproduced in part or in whole without the express written permission of Über Rock.