By DJ Astrocreep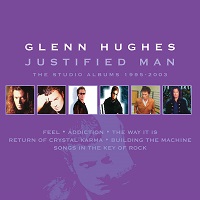 A  six CD boxset may barely scratch the surface of the rich musical history that an artist the measure of Glenn Hughes has written or been involved in, but, one thing it is, is a very good insight into some of the slightly different areas of his work that some people may not be very au fait with, which is what I think the reasoning behind the release period was.
While most people into their rock and metal will know the likes of 'Burn', 'Stormbringer' and the likes, how many would also know the rather more soulful 'Talk About It', from 1996's 'Addiction', which shows his various skills in a different manner, or the album 'Feel', which saw Glenn move in a direction that fans of more modern rock may associate with the likes of Black Stone Cherry or those of classic rock as more Whitesnake, rather than a deal of Glenn's illustrious back catalogue?
This boxset seems to have used the American editions of his solo releases in the main, meaning that for any outside of there, there will be a couple of nice additions for anyone who already has the albums, in most cases some bonus live tracks or such. We do have a couple of Japanese and European release extras included too, to add a touch of extra spice, which means it's not just a case of a flat rehash of the earlier pressings of the selected albums, as some of the extras are new even to myself, as familiar with both his solo and other albums as I am. The live additions are good quality despite both their age and the relative recording ability in a live setting at the time, meaning there is scope for even diehards to maybe add at least a couple of worthwhile extra Glenn Hughes bits to their collection.
'Songs In The Key Of Rock' pays a nod to a musician Glenn obviously admires in Stevie Wonder, with Funk being an obvious influence and liking for Glenn, something that comes through a lot more now in his solo releases than I may have earlier appreciated during the more closed mindedness of my youth. The likes of the ode to John Bonham, 'Higher Places (Song For Bonzo)' is a high point of the album, with some obvious nods to Led Zeppelin's 'Kashmir' audible through the verses of the track, while the entire release is something that adds further substance to Glenn's extensive back catalogue and writing style, so often regarded only – wrongly so – for his harder rock tracks,  despite the obvious influence that these solo works have clearly also had on other artists.
One thing that was new to me is quite who some of the collaborators were on these albums, with the likes of Billy Sheehan and Chad Smith on 'Songs In The Key Of Life' and The Cure's Lol Tollhurst on both 'Return Of The Crystal Karma' and 'Building The Machine', to mention but three of some of the top quality musicians who have lent their talents to Glenn's releases, artists who have achieved more than a few of their own things on their own terms.
When it comes down to it, this is a re-release, not a brand-new recording, so if you want lots of new material, this is not the release for you. If, however, you want something that gives you a couple of bits a touch different than you've maybe heard them before, or you're an avid collector who hasn't been able to source a couple of the original bonus tracks from another territory, then there will likely be something new for you, if the boxset itself is not enough to convince you. At a price of £23.99, it also works out at four quid an album, which for someone of the ability of Glenn is a very inexpensive take, especially considering what some other artists decide to charge for reissues, while the albums vary from solid to real quality on their own, making it a worthwhile investment should you be missing one or two from this period of his career, adding to the value of this boxset.
'Justified Man – The Studio Albums 1995-2003' is released on 31 January. You can get your copy HERE.
www.facebook.com/glennhughesonline
All content © Über Rock. Not to be reproduced in part or in whole without the express written permission of Über Rock.