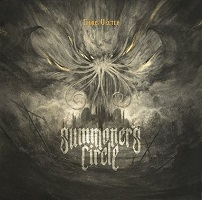 Having sat on 'Chaos Vector' for the past year, Summoner's Circle have been itching to share their collective creative juices with you. And many juices there may be as the band seems to have a massive line-up. The third offering from the conspicuous death metal band from Knoxville is a concept album, a cosmic horror story from the active imagination of lead vocalist Blind, no doubt inspired by the science fiction and fantasy novel of the same name.
The band, who insist that every performance is an incantation and who call their followers acolytes, are known for theatrics. Drummer Invictus likes to visit graveyards and watch 'Game of Thrones'. This album is a carefully crafted, progressive and intricate story. No really, it is. Downloadable with 'Chaos Vector' is a Lovecraft style short horror story with paragraphs to accompany each track on the album.
'Of Black Horizons' opens at lightspeed, exposing the mind to endless darkness. As the black void is glimpsed, rolling drums herald a horror darker and older than the emptiness of space. Welcome the madness in as your mind crumbles before you. Whatever the circle has summoned is not going to go back in the box.
As you journey through the fantasy, an adventurer, 'Joseph', touched by the contents of a cursed 'Vessel' is changed forever. The feeling of foreboding is created with furious vocals and heavy breakdowns. But prepare for the switch. I'm sorry but 'The Heiropha' reminds me of a very drunken (space?) sailor and I've lost track of the story a bit. The strange synth keyboard breakdowns are designed to build anticipation and cleverly add to the illusion of being pushed severely off kilter. A steady rhythm guides the ship forward through the death metal verse. Apparently, the lead character is learning rituals. Hope he doesn't fall overboard and hex himself.
'Apostasy', which means "the total, public rejection of Christianity by a baptised person", is an epic seven and a half minutes of pace switching, solo filled agony. As Joseph witnesses a satanic ritual, he runs blindly away but is haunted and changed forever by what he has seen. It's followed by the title track in which I'm distracted by the caricature vocal but Invictus' brutal druwork soon focuses the attention as Joseph descends into madness and Blind finds his place.
In 'Terminus Egris' Joseph is compelled to sacrifice his child by the circle, but he instead kills himself, to no avail as his son is still consumed by the dark power. Falling drumbeats signify the fight of good against evil, operatic vocals adding drama before 'Chrysalis' emerges, beautiful instrumental piano.  Tale told, we are left with 'The Beyond'. Pursued through space, the evil is closed out as we escape through wormholes only to emerge into the very jaws of the original primal horror… who is ready to begin the summoning.
And so we come full circle, each way you look there's a bunch of blokes in black robes. Unfortunately for me, the music, as with the robes and the plot, far from suggesting a 'Chaos Vector' were all just a bit too predictable. I commend the attempt at creativity and I love a concept album but, unlike 'Game of Thrones', 'Chaos Vector' isn't for me.
'Chaos Vector' is released on Friday (27 August). You can get your copy HERE.
www.facebook.com/summonerscircle
All content © Über Rock. Not to be reproduced in part or in whole without the express written permission of Über Rock.