By Jim Rowland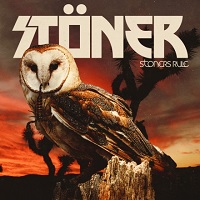 Undisputed legends of the stoner/desert rock scene, Brant Bjork and Nick Oliveri are no strangers to each other, having worked together most notably in Kyuss and more recently Vista Chino. Stöner is the not-so-subtle name of their latest collaboration, where the duo are joined by drummer Ryan Gut from Bjork's solo band, and 'Stoners Rule' is the equally unsubtle title of their first album.
Recorded at The Rad Cabin, Joshua Tree, CA in October of last year 'Stoners Rule' contains seven cuts mixing Brant Bjork's California cool with Nick Oliveri's punk attitude to produce a seriously impressive debut album.
Opener 'Rad Stays Rad' and 'The Older Kids' have Oliveri's overdriven bass high in the mix as it growls its way through these grooving head bangers, benefitting from Bjork's trademark laid back and very cool vocal style, with guitar to match. 'Own Yer Blues', as the title suggests, is a slow blues groover, and 'Nothin' is a short, sweet hypnotic punky rocker with attitude.
Brant Bjork handles the vocals on all but one track, the punk-infused 'Evel Never Dies', where Oliveri takes the lead vocal on this totally fun ode to motorcycle daredevil Evel Knievel which has a bit of an early Fu Manchu vibe going on. The Hendrix-esque total groove of 'Stand Down' is perhaps the closest track to Brant Bjork's solo work, whilst the album closes in spectacular fashion with the 13 minute epic stoner groove of 'Tribe/Fly Girl', featuring some particularly fine guitar work from Bjork.
'Stoners Rule' is an album that will grow on you with each listen, must rank up there with some of the best stuff both Oliveri and Bjork have produced, and, if stoner/desert rock is your thing, is a serious contender for the soundtrack of your summer.
'Stoners Rule' is released on 25 June. You can get your copy HERE.
www.facebook.com/StonerBandOfficial
All content © Über Rock. Not to be reproduced in part or in whole without the express written permission of Über Rock.