By Monk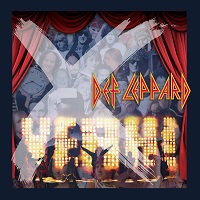 As its title suggests, this is the third in a series of four ambitious boxset collections being released by Def Leppard, encompassing their entire recording career by combining newly remastered versions of their ten studio albums to date with compilations of previously unreleased material – most of which is probably being offered fourth in order to make these various packages more attractive to even the most diehard of fans, who most likely will have all of the original releases in various formats… but, then again, the attraction is even stronger due to the fact that, in light of the vinyl revival of the past decade or so, several of the studio offerings are being pressed in that format for the first time.
The two previous volumes took us through the band's emergence from the back streets of Sheffield into the spotlight of global mega-superstar status brought by the 'Hysteria' induced by the 1987 record-smasher of the same name, and on into what were, it has to admitted, the rather patchy Nineties. 'Volume Three' concentrates on the 2000s, and thus brings us the band's three studio albums from that decade – the surprisingly laid-back 'X', the covers-centric 'Yeah!' and what many fans regard as their "comeback" album, in the Vegas-friendly 'Songs From The Sparkle Lounge' – none of which have been available on vinyl before and therefore probably will have proven to be an irresistible acquisition for those with deep wallets (or high credit card limits). These are augmented by three bonus offerings – 'B-Sides', 'Yeah! 2' and 'Yeah! Live', which more or less do what they say in their titles, bringing together single B-sides and more cover versions, many of which have again never been released on vinyl (and, in some cases, in any format).
There's not more that can be said about the three studio albums that hasn't already been expressed in a million other words. Personally speaking, however, 'X' reinforces why I stopped listening to DL a decade earlier, and surely ranks as the most inane, ineffective album in their repertoire; yeah, it does have some good moments, most notably the suitably passionate 'Cry' and the adrenalized (sic) closer 'Scar', but by and large it lacks any oomph or punch, coming across as a band treading water and trying to pander to changing MTV-led tastes which by and large and seen the world turn its back on "real" rock music.
Like NWoBHM counterparts such Maiden and Saxon, Leppard had a penchant for the odd cover version, often released as the B-sides of singles when such things existed in their original format, so it was perhaps no surprise that they would fulfil one of those infamous contractual obligations with a full album of the things – and 'Yeah!' undoubtedly is an interesting collection, showcasing the band's musical influences and delivering them in their own style: as a follow-up to the disappointing 'X', it was the sound of a band rediscovering their roots – and, it could be argued, very much a precursor for frontman Joe Elliott's own Down N' Outz project. But, rather than being a "throwaway" album, it was very much a cue for the band rediscovering their earlier energy and commitment to the rock 'n' roll cause, as they re-ignited that inner fire with their tenth album…
'Songs…' (another album I managed to avoid when it was first released) definitely did re-establish da Lepps as a relevant, 'Noughties rock band: yes, it does have its troughs, such as the totally awful attempt at a Queen tribute that is 'Love', but it also has some truly in-your-face moments of angst-driven, fist-pumpin' rock 'n' roll action, such as the anthemic call to arms of 'C'mon C'mon', the 'Pyromania'-era revisitation riff of 'Hallucinate' and the Beatles-meets-Wildhearts psyched power pop of 'Only The Good Die Young'. To be honest, listening to this album more than a decade after its original release genuinely does make me regret not paying it more attention first time around.
In terms of the three "bonus" albums, all of which are personally curated by Elliott, well as is the wont with projects such as this they are more or less curios, albeit ones which would more than pique the interest of the tweed-suited experts on those weekday afternoon antiques hunt programmes that some of us have found ourselves glued to during lockdown… For the 'B-Sides' offering, for example, there is the usual slew of demos, acoustic reworkings of album tracks, etc., while 'Yeah! 2' and 'Yeah! Live' are both exactly what their titles suggest, in a second collection of cover versions and a compilation of live recordings of same. As I said, mainly curios, some interesting – such as Phil Collen taking over the lead vocal role for 'Stay With Me' and the recording of 'Now I'm Here' from 1992's Freddie Mercury Tribute Concert – but others not so much. But, it is these sort of "insights" which help to sell collections such as this to even the most indefatigable of fans, and so they are worthy of inclusion.
With da Lepps having released just the one studio album in the last 13 years, it will be very interesting to see what route 'Volume Four' takes us down: I would hazard a guess that it will be based heavily around the four live albums they have issued over the past decade, but hopefully they will throw in enough surprises to not only maintain the interest of those diehard fans but also those of us who have paid little more than a passing interest in the latter part of the career of a band who have undoubtedly proven to be one of the Über Kingdom's most successful rock 'n' roll exports.
'Volume Three' is released on 11 June. You can get your copy HERE.
All content © Über Rock. Not to be reproduced in part or in whole without the express written permission of Über Rock.