By Monk and The Dark Queen
To be brutally honest, I don't really know where to start with this review. Do I talk about the absolutely sublime performance by the artist known as Steve Vai, who legitimately ripped this venue a new one on the last night of his ÜK tour? Or do I talk about the overcrowding, the morning after deafness and vulgar bouncers? I tell you what, I'll address both, in due course…
We'll start on the negatives, shall we? After all, it's always good to address the elephants in the room, get them out of the way, back to the Serengeti and then look on the bright side, isn't it?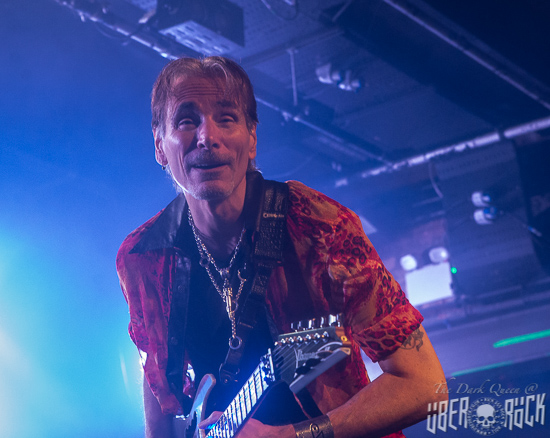 With two gigs running simultaneously in adjoining rooms (Blues Pills are playing next door in a massive clash), security are obviously anxious to ensure everyone is going to the right gig. "You all for Stevie?" he asks. "He's called Steve" comes the reply from a young lady a few places in front of us in the queue. "I don't care what he's fucking called" is the utterly charming response… The queue moves quickly, though, as we are ushered from the chill of the early evening air outside into… well, a blast furnace of heat and noise!  The place is absolutely rammed, and people are still streaming in even as Vai is halfway through his second track: to quote the Irish rugby anthem, it is literally "shoulder to shoulder", so much so that it takes DQ a full five minutes to battle her way through to the photo pit, and even longer to find her way back to our traditional perch at the back of the room.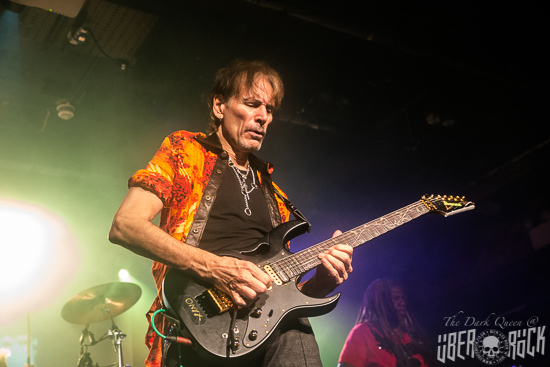 The sheer volume of people present is an obvious testament to Vai and his enduring talent, as this is quite possibly the biggest crowd I have seen since Slayer played here almost exactly nine years to the day previously. And they are suitably rewarded with almost two hours of what can only be described as a masterclass in guitar technique and wizardry.
The sound mix is huge – and I mean HUGE. In that it's also fucking loud. I swear that the very wall behind me is actually vibrating, as the drums and bass threaten to smash their way through my chest cavity. But, despite the volume, the mix is clear and concise, accentuating every nuance of the extremely complex musical performance unfolding before us, making us forget the claustrophobic discomfort as Vai's genius glides and soars around the room with alacrity and passion, his fingers flying effortless over the fretboard and holding the room entranced for his allotted hour and 45 minutes.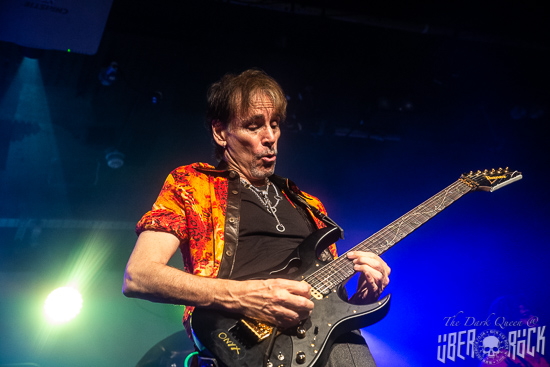 In a world where terms such as "guitar god" are bandied about like lollipops at a child's birthday party, Vai definitely, and defiantly, fits that accolade, as he proved once again this evening.
PHOTO CREDIT: All photos © The Dark Queen/Über Rock. You can view our full gallery of photographs HERE.
All content © Über Rock. Not to be reproduced in part or in whole without the express written permission of Über Rock.