By Bona Pjarren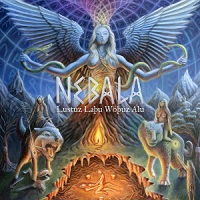 Jonas Lorentzen is a Danish musician and songwriter known for his work as vocalist in the Nordic neo-folk band Heilung and for his work on, and appearance, in the Viking epic movie , 'The Northman', by Hollywood rising star director Robert Eggers.
Raised by a family of musicians on the Danish Island of Bornholm, Jonas has explored various styles of music throughout his whole life, from classical music to jazz and indie rock'n'roll. However, during a meditation retreat in Dharamshala (home of Tibetan refugees in India), when Jonas heard the Gyuto monk throat singing chants, he was sent on a path of exploring the various styles of the spiritual application of music.
Apart from working on Nebala, Jonas' involvement in 'The Northman' included the writing of scenes' specific songs, acting and performing, plus voice coaching for Icelandic actor Ingvar Sigurdsson and Norwegian actor Magne Osnes.
'Lustuz Laþu Wōþuz Alu' is Nebala's first full-length studio album and, according to Jonas, invites the listeners to dive into Old Norse Mythology. Nebala in proto-Germanic means "the void"; the void through which all life originates. Sexuality is the essence of all life form. Through this album, Nebala initiates sexuality into a space of sacredness.
'Alagabia' is the first track of the album and introduces itself with brooding drones and washes of sound backed with various frame drum sounds. The vocals are hypnotic and meditative. The sounds are ethereal and evocative. A rather beautiful and soulful first track. 'In Rauran' is the next track, with almost a middle eastern flavour mainly carried by soaring vocals with a background of drones, presumably from the tagelharpa. It soon dives into something more tribal and driving. There are some fantastic vocal harmony sections which lift it into a spiritual experience.
'Safijan' has a stunning ambient beginning suffused with frame drums as a backing to some evocative vocals. With delicate lyre coming progressively more to the fore and the strangeness of the throat singing there is a lot to take in, The rhythms build and fall and create another outstanding track. 'Skīnanārijaz' has a wonderfully dark but gentle vocal to it. It quickly resolves into a rolling chant interspersed with some nice vocal harmonies and more throat singing. It continues with an ethereal spiritual feel so prevalent on all the tracks so far.
'Laþu' leaps into action with a robust frame drum beat and droned vocals interspersed by more open atmospheric sections. It has a dark tribal feeling to it. Bowed sounds give an avant-garde anti music feel that is still in keeping with the track. Compelling and clever stuff. There really is a lot to take in on 'Laþu'.
'Ant Mér Sjalfri Þér' showcases haunting horn drones before evolving into a capella style chants and harmonies. Clever use of drones, singing bowls and bells add a whole new dimension to this highly experimental track. It also exhibits some quite animistic sounds towards the end. 'Mannz Gamana' has some unusual samples that could be something being dragged repetitively over stone. It really keeps my attention before the main body of the song is introduced. Nice interweaving rhythms accompanied by a female vocal, inventive soundscapes entrance the senses. It feels like this album gets more experimental as it progresses.
'Surgō Sebō' has a strong frame drum beat with some nice background ambience. I am finding this album very inspiring with its intricate weaving of themes and rhythms. Each track has its own distinct surprises. There is some expressive dark chanting and expansive use of things like tagel harpa that really open up the soundscape. You really get the influence of Heilung on this one; well Jonas was an active member of this band for two years.
And what a final track to the album 'Blotha Huñaga Bolañan Alu' is! Fantastic a capella soaring vocals, dark chants, harmonies, throat singing, and all to a strong tribal drum beat. The use of various exotic instruments embellish this album throughout and give a real meditative air to the proceedings.
Now I readily admit that this is a highly experimental album and may not be to everyone's taste, but, personally, I loved it. I am a big fan of Heilung and Jonas shows this fine pedigree throughout this wonderful piece of imaginative work. It is the type of album I would happily go out and buy. If you are into Viking music or neo-folk definitely give this superb album a try.
'Lustuz Laþu Wōþuz Alu' is released on 29 July. You can get your copy HERE.
All content © Über Rock. Not to be reproduced in part or in whole without the express written permission of Über Rock.