By Jase Walker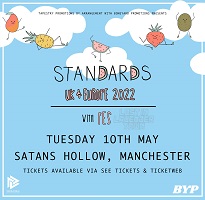 A bit of a last-minute arrangement as I legitimately nearly missed this show, which would have sucked because I'm a HUGE fan of Standards and have also heard many good things about FES, and have since spent a bit of time listening to their latest album.
Tonight's show promises to be a meaty affair of sparkly, twinkly math rock which only makes me more excited to be going to ArcTanGent this year, so this will go a long way to whet my appetite! Sadly, Lost In Lavender Town who were originally billed to be supporting the Manchester show couldn't make it due to Covid (boo!) – get well soon guys!
Equally sadly, the venue is looking pretty empty from early on which doesn't bode super well for FES, which is a real shame since it seems that Manchester might not quite have the same appetite for math rock as myself. I do hope more people pop in shortly because this might sour promoters want to put more mathy stuff on in Manchester.
Undeterred by the lack of people in the venue, FES get up to Satan's central circular stage and draw people to the "front" of the circle between the two bars. A quick word from the bass player and they get started! Despite the lack of bodies in the room, they actually project their sound pretty bloody well. If you've heard of the likes of Elephant Tree or Delta Sleep, then these will be right up your street. Wonderfully poppy and busy math rock, probably the less "sparkly" kind but odd time signatures and big chords carries the songs along nicely.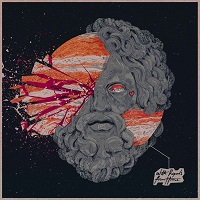 The band is enjoying the set all the same, taking their time to have a bit of banter on stage in between songs, they're a funny bunch. A song from their debut album (seriously, go listen to it, it's great), 'Overdrive' shows off how well they can do stop/start bars, a real solid knack for harmonising vocals, and a nice little tapped section towards the end, great stuff. One of my favourite tracks up next is 'Force Feed' – seriously, I love these sort of almost disjointed riffs. This song also shows off the tappy sort of stuff that a lot of math rock is known for, and it's a beaut.
Listening to FES has honestly been a real pleasure, it's just straight up, warm and fuzzy math rock and feels like summer and despite the weather in Manchester right now, they've definitely made it feel like the sun's here in this room. They take the rest of their set to blast through a bunch of old songs from their EP and brings to a close a pretty fantastic set and despite the few numbers of people in here, they look like they've had a good time and so have I.
I really hope I get to see these again soon.
Some whispers behind me saying 'Wait, there's only two of them?' while Standards get themselves set up – and yep, it very much is just the two of them, and they're bloody great. I had the pleasure of seeing these guys in 2019 in the lead up to ArcTanGent; it was fantastic then and I would suspect no different for this show too.
The instrumental math rock pair with some clever looping of riffs and the like is wonderfully melodic and they're a joy to watch as well, some.of the newer stuff working in some chiptune style backing. Constantly moving riffs that seldom seem to end bounce around from passage to passage while the guitarist runs around the stage effortlessly playing them. This is why I love math rock so much; it can be as simple and barebones as you want and all the way to incredibly complex but most of all; it's just *fun*.
One thing does need to be said for more intimate shows like this, is that the in-between songs can be ad-libbed a bunch too, like according to Standards, everywhere in the UK, everyone always says 'Ufff, bit rough here' – which is pretty true I guess haha! Also, in a bit of a segue in the banter, Tesco meal deals?
They say they're about to play something new and I immediately recognise the start of it… Is that the fucking Pokémon battle theme? No wait, super smash brothers? Anyway, back to our usual scheduled programming, more math rock… But with Chiptune in there too? Standards switch gears more frequently than your average driver in a race, they really do put on a great show these guys! It's easy to focus on the guitars in a math rock show but I keep getting distracted by what their drummer's doing. He's doing some really interesting fills and complex stuff that is probably easy to get lost in the overall flow in the song.
And, finally, Standards draw their set to a close, an early finish as Satan's Hollow runs a nightclub on Tuesday nights but what a lovely show it's been, it's a real shame Lost In Lavender Town couldn't make it because I'm a big fan of theirs but it's been fantastic all the same.
The tour continues at the Hug & Pint in Glasgow tonight (Wednesday 18 May, the Cluny 2 in Newcastle Upon Tyne tomorrow (Thursday 12 May), The Moon in Cardiff on Friday (13 May) and finishes with both bands playing the Portals festival at The Dome in Tufnell Park on Saturday (14 May).
All content © Über Rock. Not to be reproduced in part or in whole without the express written permission of Über Rock.