By Jase Walker
One of the main benefits about writing for someone about your main passion is that you often find all sorts of bizarre and wonderful stuff landing in your lap and Giant Walker is no exception to this. Stating that they've got a shared love for bands such as Karnivool, Soundgarden, Radiohead and Deftones who are all bands I hold in pretty high regard, the chance to listen to something heavily influenced by these sorts of acts is something I absolutely had to get my teeth into.
Hailing from Newcastle, these Geordies have put together an album that I've had the pleasure of spinning quite a number of times over the last week despite the pretty crackers time schedule I've had to deal with.
Clocking in at nine tracks, each clocking in at around four minutes barring the finale, and so far have released five of these as singles. Admittedly I'm generally an album listener that prefers albums to be at the ten tracks or under range since I tend to find, more often than not, this is usually an indicator of proper care writing each track and making sure they're as sonically complete as can possibly be.
'All In Good Time' leads the way with 'The Fact In Fiction' and the Karnivool elements are immediately on show from the choices of chords, to how the song's constructed, it's very heavily towards the more Themata end of Karnivool, what a chorus though!
'Katoomba' is the most recent single and second up on the album, again with the Karnivool influences showing through very much within the chorus with how they chug the first couple of bars and lead with a soaring vocal melody on the rest of it – I am a legitimate sucker for this sort of song writing, a big chorus hook is my kryptonite.
So far, I'm barely even a third of the way through this album and 'Podha' leans a bit more heavily towards the stranger riff writing that Radiohead and Deftones use, we're off to a real strong start here and I'm questioning how I've not actually seen these at one of the litany of gigs I've gone to over the years.
'Interia' echoes the atmospheric melancholy of Karnivool's 'Asymmetry' album yet is still very uniquely their own sound and puts on show the versatility of sound they're capable of writing. On this track the Bass guitar tone really sticks out, it's got that wonderful fat bottom end but with the 'clack' of the strings along with it, not quite as extreme as say… Fieldy from KoRn, but not far off.
One of the 'older' singles from the album, 'Optophobia' channels guitar riffage that errs closer towards the likes of Tool all covered with ethereal airy vocals layered over the top, a juxtaposition that is generally hard to pull off while keeping a song coherent. If I heard this live I'd be genuinely conflicted whether to headbang along to that riff or sing along while getting lost in the rest of it.
With that we're past the halfway point of the album, Giant Walker have managed putting together an album so far that's varied and interesting so let's see what the latter half has to say eh?
'Left To Wreck', with its chaotic, bouncy guitar work again clashes with their singer's vocals in a fantastic manner. She really does have a fantastic voice on her that works incredibly well with how the rest of the music goes behind it, an anchor if you will to grab onto while the riffs batter you into submission.
Slowing things down a bit now with 'Past The Peak' shows off a bit more of the Deftones influence here with the dreamy arpeggios and processed vocals which culminates in a steady build towards the song's crescendo. This track is also another one of the singles they released in the lead up to the album and they've picked these all pretty well as it's served well to show the different facets that Giant Walker are capable of.
As approach the end, we hit the penultimate track, 'All We Have Is Gone' and what a bloody riff to introduce that gives away to a hypnotic arpeggio against a chugging bassline, the whole lot is a great combination right until hitting a Deftones laden chorus, and then back into that tasty intro riff. What a track!
And finally for the album finale, we have 'Coda', the longest track on the album by a fair bit and definitely worth waiting for. I often find 'outro' tracks can be hard to place, what do you go with? The biggest banger? Or do you go for something a bit more interesting and sombre to play the album out with. By the sounds of things, it seems Giant Walker have gone for the latter here and with how strong the rest of the album is, that was definitely the correct choice.
Honestly, I actually can't believe this is a debut album, the song writing is strong, the recording quality is damn good, and on the whole, it was a fantastic album to listen to and no doubt I'll be rinsing this when it drops full on at the end of this week. This was a treat.
'All In Good Time' is released on Friday (13 May). You can get your copy HERE.
Giant Walker tour in June: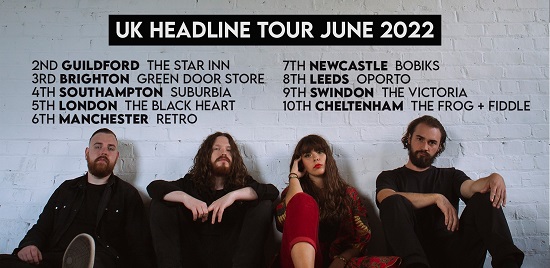 All content © Über Rock. Not to be reproduced in part or in whole without the express written permission of Über Rock.