By DJ Monk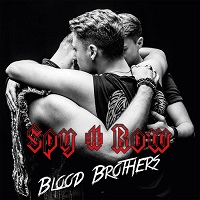 Despite the fact that they have been together for around 14 years, Frankfurt trio Spy # Row are very much young kids on the Über Rock block: not only is this their debut album, but add into the mix the fact that their youngest member (unfortunately their bio doesn't say which one) only turned 21 last year, and their youth is extremely apparent. However, what is immediate equally obvious is that this is no wet-behind-the-ears crüe of inexperienced kids playing at the rock music game, as 'Blood Brothers' is a hugely accomplished album that would put many bands twice or three times their age to shame…
Made up of brothers Sam and Tim Jäger (now, there's a appropriately rock 'n' roll surname) and boyhood friend Arian Gerhardt, Spy # Row plough a musical furrow that, at first listen, would place them fairly and squarely at the heart of the Scandinavian melodic rock scene, drawing heavily as they do on the likes of Crazy Lixx, Pretty Maids and The Poodles for a sound that combines groove, guts and enough earworm melodies to fill every garden shed in the Überverse!
Don't let the "boy band" image fool you: these lads know how to rock, with a collection of earworm anthems that will have you hitting the repeat button and dancing 'round your living room for weeks on end. They have developed, nay perfected, that uncanny Scandi-rocker knack to meld ballsy beefiness with huge amounts of harmony and massive dollops of melody, all melded into a satiating blend of poppy hooks and irrepressible infectiousness which cannot help but bring a smile to you face and a jauntiness that guarantees to warm the cockles of even the hoariest of rock 'n' roll hearts.
It is extremely hard, if not impossible, to find a fault with 'Blood Brothers': my only comment in this regard would be that, at 55+ minutes, it is perhaps a tad overlong; but then, it is understandable that these youngsters would want to get as much material as possible out there at this stage of their nascent career. It is possibly, no probably, the best debut album I have heard by any band in a long time, and one which possesses an ability, a confidence and a maturity which belie the relative youthfulness of its protagonists. It is a clear marker and a challenge to many more "experienced" bands, and an assured release that makes one hope that Spy # Row attain the right backing to take them to the next level. This certainly ranks among my discoveries of the year.
'Blood Brothers' is released today (Friday 26 April). You can get your copy HERE.
https://www.facebook.com/Spyrowdreieich/
All content © Über Rock. Not to be reproduced in part or in whole without the express written permission of Über Rock.