By DJ Monk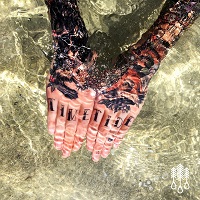 Alex Ekong, vocalist with the spellcheck bothering spring.fall.sea – who were formed in the rather non-metal environment of Bangkok and made quite a name for themselves both there and in neighbouring territories before relocating to London last year – describes this, their debut UK release, as a "reaction to the world around you and the internal turmoil that comes with it". He adds that it reflects "realization that your surroundings, your relationships, your universe isn't going to wait for you [and] your only option is to change with it and be the best person you can be".
In light of that assertion, it should come as no surprise that 'Time + Tide' feels both introspective and optimistic, a collection of songs which blend light and shade with accomplishment and confidence, reflective of their origin but forthright in their clarity of their vision for a brighter future. This is demonstrated no more clearly than in the juxtaposition of two of the EP's singles, 'I Realize', which reached more than 100,000 views in the Far East within its first month of release, and 'All About This', which are in turns both dark and joyous in their assessment of where their creators find themselves at this moment in time.
Musically, spring.fall.sea plough a post-hardcore/heavy pop groove that will be familiar to fans of Muse, Biffy Clyro and, more effectively, 30 Seconds To Mars – the latter comparison extremely obvious in some of Ekong's vocal phrasing, especially on the likes of opener 'Strangers' (the other single to be lifted from the EP) and closer 'No Regrets Just Memories', the latter of which also points very firmly towards the likes of Bring Me The Horizon.
'Time + Tide' is a very solid debut and definitely worthy of attention, especially by those charged with compiling the playlists for certain online "radio" and TV outlets, as it has the potential to see the band bothering the charts before very long. But, just remember – you read it here first.
'Time + Tide' is released on Friday (6 September). You can get your copy HERE.
fall.sea play the Aces & Eights in NW5 on Saturday (7 September) and the Undead Collective showcase at The Fighting Cocks in Kingston (with Darko, Brightlight and Merrick's Tusk) on Saturday 14 September.
www.facebook.com/springfallsea
All content © Über Rock. Not to be reproduced in part or in whole without the express written permission of Über Rock.