By DJ Monk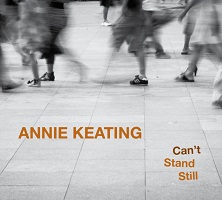 Brooklyn-based songstress Annie Keating is best known for the genteel Americana style of rootsy lyricism that has permeated her previous nine releases. However, she has moved down a slightly rockier road with this, her latest six-track mini-album which sees her push the envelope in a way which many of her predecessors and contemporaries have attempted, to varying degrees of success.
As soon as I hit play on opening track 'Beholden', The Dark Queen stuck her head around the door and asked if I was playing the new Blues Pills album – and, to be honest, I can see the similarities, in both the atmospheric and the vocal styling. Keating has a rich, very bluesy voice which suits the laconic yet vibrant feel of the songs, from the aforementioned psych-infused opener through the Stones-ish r'n'b musing of '$20' to the ethereal, Mitchell-esque 'Mother Of Exile', which has such a beautiful summery vibe that I almost forgot it was pishing down outside the ÜRHQ windows.
'Can't Stand Still' is a very pleasant listen. One designed for the sort of sunny Saturday afternoon that the British ecosystem does not permit. It lilts gently in the background as you get on with other things in your life, but it also enraptures when given full attention, which in turn reveals something akin to the experience of listening to Stevie Nicks jamming with Tom Petty or Stevie Van Zandt.
'Can't Stand Still' is out now. You can get your copy HERE.
All content © Über Rock. Not to be reproduced in part or in whole without the express written permission of Über Rock.