By DJ Astrocreep
Another evening in Manchester for live music, with Jeff Scott Soto's heavier project Soto as the main bill for the night. A dual support of StOp sToP and Romania's Scarlet Aura are just gearing up for their sets as I arrive at the venue, with a couple of people already in before I arrive just after doors. I settle in for the opening night of the tour, awaiting what I hope will be a strong night of music.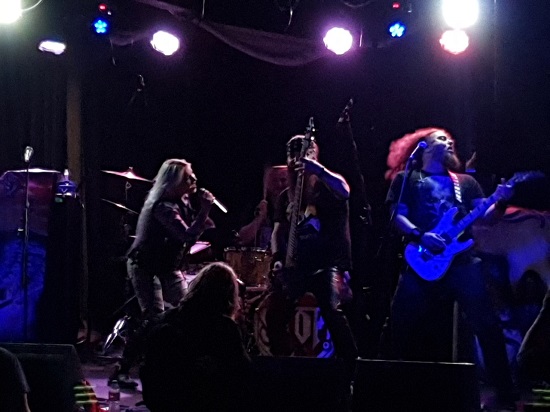 The four-piece Scarlet Aura come on, with vocalist Aura parroting the great Lemmy himself with the phrase, 'We are Scarlet Aura and we play heavy fucking metal', to the few that are in in time for the start of their set. What we get from the outset is old school epic heavy metal, with the keyboard pieces coming from a backing file. Aura has a good range in her voice and the band are perfectly able musicians, meaning we get a quite good set from them, with their songs being quite easy to appreciate. While they've been an act for five years, I would expect a couple less errors than come up, but that's part of the beauty of live music and it's these off beats that provide the emphasis for the good parts. I think having a live keys player would be of benefit to them, as the backing makes the sound a touch flat at times, without that fluidity and nuance you get when live. The songs are pretty good, but not exactly genre defining, meaning that it's a good live performance, while they go down well with the crowd though and that's the important thing here, so it's overall a good performance.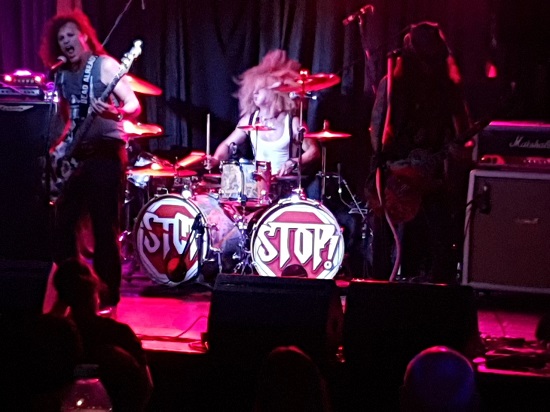 StOp, sToP are unapologetically much more of an 80s rock bent with a good stage presence, which quickly comes out with their infectious sense of humour as Jacob A.M. asks the crowd to tell him to fuck off when he calls us motherfuckers, which brings plenty of smiles and apt responses! Having caught them at a previous HRH event, I already knew the quality of their songs and it's good to see that their sense of fun is as strong as ever. Excellent musicianship alongside a raspy rock voice make for very good rock n roll times and man, does everyone in the place already know it! Their quirky and catchy songs go down very well, with that aforementioned sense of humour taking them that extra step into the excellent set territory that they well and truly earn tonight. Worth catching in any position on a bill! As a finale, a medley of covers mid final track, as the band come out into the seated area, is both eye catching and well performed, leaving an excellent impression on the audience.
Now it's time for our headliner himself, as Soto take to the stage. It's not their first time together in Manchester – though there has obviously been a bassist change since the previous tour – and Jeff dedicated the second half of the set to his fallen comrade for that reason. He also shows his humour, as he says in America you can't call anyone a cunt, unless it's Trump, which gets a mainly positive response. The crowd has picked up somewhat, while Jeff elucidates on the set some more, on how they had changed it for the UK leg from the rehearsals, so we are getting the first run out of the new set, which goes down well.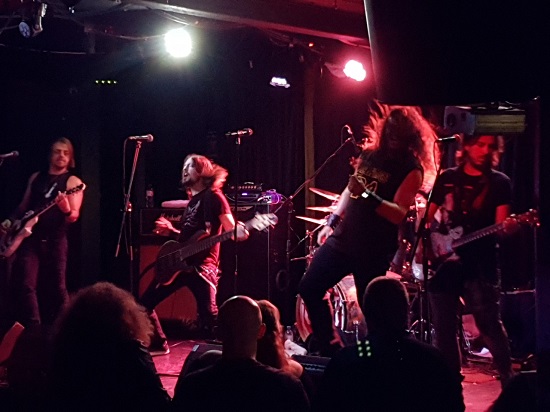 Musically, as expected, you cannot fault any of the band. I'm pretty sure there's no one with an interest in rock and metal who is unaware of the talents of Jeff Scott Soto himself, whose level of talent has obviously afforded him the luxury of being choosy in terms of his band mates – something that shines throughout the set. We get a mix of material, performed immaculately both musically and vocally with some incredible musicianship shown from each member in their respective way, with a mix of heavier and melodic another theme throughout, showcasing the ability to both switch between the two sides and to mesh then into a very coherent and enjoyable cacophony. 'Torn' is performed live for the first time – with Jeff remarking that the video is being shot a few days later – performed as excellently as the rest, with the key changes as smooth as you would expect from such a well-oiled band, leading in to a medley of bands including Madonna and Adamski! All in all, a phenomenal performance, even if the late running means I have to dart before the end for my train!
The tour continues at Bannerman's on Edinburgh tonight (Wednesday 4 September) and concludes at The Underworld in Camden on Friday (6 September).
PHOTO CREDIT: Photos by the author.
All content © Über Rock. Not to be reproduced in part or in whole without the express written permission of Über Rock.