By DJ Astrocreep (@DJAstrocreep)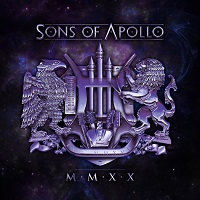 For five guys that are as prolific with both releases and supergroups as these guys, I'll admit they had initially passed me by. One of our photographers wanted to cover their gig, so I agreed to review it. I'm sat to one side, the gig kicks off with the phenomenal 'God of the Sun' and I am instantly hooked. Fast forward a couple of years and we are on to their next full release in 'MMXX'. How does it fare against 'Psychotic Symphony'? Read on and find out!
For starters, we have already had three videos out at this point, in album opener 'Goodbye Divinity', 'Desolate July' and 'Fall To Ascend', all of which give a pretty good indication of what to expect from the album. 'Desolate July is the ballad from the album and comes over more like a rock ballad the like Billy, Jeff and Bumblefoot will be more used to playing in their respective other bands across the last few decades, though they don't lose their sound whilst doing so, to their credit. 'Goodbye Divinity' is one of the strongest tracks on the album and a very good choice to open with, taking a more rock-based approach without ever losing that edge to the songwriting and still keeping to what is becoming their trademark sound.
Probably my own personal pick on the album is the third track, 'Asphyxiation', with the manner that it from out outset puts me in mind of 'God of the Sun', albeit at just under half the length, while it's on 'King of Delusion' that the more progressive sound starts coming to the fore, especially so in Derek Sherinian's keys solo around two-thirds of the way through the track, before it races off into a different pace than before. The organisation of the album, the order in which the tracks have been picked comes across almost as a musical storytelling in the rise and fall of the different tracks – indeed, if you sit back and close your eyes, a good imagination will set you straight into some kind of short film as you wind through the tracklist.
While we have elements of the heavier end of the band, we don't ever really get properly into it in quite the manner that previous release 'Psychotic Symphony' did, though that's not to say that there are not parts that are not comparatively heavier, more that the focus stays mainly on the melody that they create between each other so well, both between the various instruments as well as with Jeff Scott Soto's highly talented vocal parts. It's another very strong release, though it's hard not to expect such a standard from such uniquely talented and experienced individuals, that will continue their journey on a path to Prog mastery.
'MMXX' is released on Friday (17 January). You can get your copy HERE.
Sons Of Apollo play the Assembly Hall in Islington on Thursday 19 March.
www.facebook.com/SonsOfApollo1
All content © Über Rock. Not to be reproduced in part or in whole without the express written permission of Über Rock.