By Jason Walker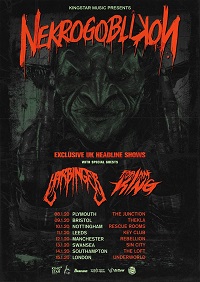 Few bands can claim to be as self-deprecating and silly as Nekrogoblikon while still churning out some of the tightest and most frantic riffage around. A band known for having a literal Goblin run around on stage and messing with the crowd in some sort of demonic version of Happy Mondays' Bez, I've no doubt I'll probably end up getting messed with at some point during the show.
Tonight's lineup also features local nutters, Footprints In The Custard, who are well known in Manchester's music scene and have been getting themselves some high profile slots recently. In line with their sense of humour, their walk-on track is literally the 'Thomas The Tank Engine' theme, their singer sporting a rather lovely sparkly skirt.
Footprints In The Custard are all about having a mess around on stage, not taking themselves seriously in the slightest, but that doesn't mean they aren't bringing it hard! In-between songs you'd think this is more of a stand-up routine as they go into 'Gail Platter' which sends some random bloke in the audience into a bit of a frenzy, I think someone's been on the juice before hitting the gig! The varied nature of the songs they're playing is bizarre, partway through they play something that sounds reminiscent of Gary Moore's 'Over The Hills' and ends up with them doing a jig on stage and getting the audience involved. No sooner did they get through that, the next song is 'Don't be a cunt' which sounds closer to punk with a bit of hard rock, the audience is clearly enjoying the chorus because it's basically the song name being shouted out, classy! Now one of the guitarists has stripped down to a Mankini while they play 'Hanging with David Carridine'…. bonkers.
For I Am King come to the stage without much fanfare but they are LOUD. I've never actually listened to these before so I'm hearing all this for the first time and im still finding my feet when it comes to Tech-Death stuff but I am loving this so far! Sporting a female singer that is belting out screams and growls that are terrifying, similar to the likes of Employed to Serve and Venom Prison, her stage presence is absolutely massive.
Mixing absolutely crushing rhythmic guitar work, relentless drums and vocals that soar to incredible highs then to gutturals that you can feel in your chest, For I Am King are ripping Rebellion a new one. It's easy for a lot of Death Metal style music to become very mushy in a live environment and sound quite samey but every song they're dishing out has a distinct sound and cadence to it that makes this show quite dynamic. I feel they're playing to an audience that doesn't know them super well, you can see people are digging it but I can't see anyone that seems to clearly know them, not that this is a bad thing, in fact it's probably going to get them some solid fans out of this – I know for a fact I'm going to be checking their stuff out on Spotify!
Harbinger represent one of the most raw elements of modern tech-death, at the moment they're between singers as their previous one had recently departed. They kick straight into some of the heaviest and thumpy riffs imaginable and they have possibly one of the fattest sounds I've ever heard. Their step in is doing their material fantastic justice, those gutturals are insane!  Also standing in on this tour is Arcaeon's bass player, Eifon, bringing with him his signature bass gurn.
The energy of Harbinger's live set is relentless and massive, the audience is absolutely eating it up and going wild in the front, you'd think this was a battle royale by how berserk everyone's going, but if you'd seen Harbinger before, you'd know that this is business as usual for them. The sheer brutality and technicality of their guitar work really is something to behold, for every bit of chunky, rhythmic playing there's melody there too, all balanced fantastically well, riffs and spliffs indeed.
After a bit of a delay due to some technical issues, Nekrogoblikon get started and I'm honestly getting a little paranoid about where the Goblin is right now because I can't help but feel that I'm making a target of myself by tapping this review into my phone in the audience. As they kick off the Goblin jumps into the fray wearing what looks to be pyjamas! The crowd is going bonkers straight from the outset, I'm a little glad I'm a bit further back because it looks crazy rough!
The Goblin has now left the stage and they've chased him out the venues side door as far as I can tell so some poor sod outside is going to get a fright. Nekrogoblikon continue their assault that comes off as a mix of tech-death and power metal, I don't think the moshpit has let up even for a moment right now, no idea how they're keeping this energy up! I really have to say this is probably one of the best sounding gigs I've been to in this venue, I can even hear the keyboards loud and clear which is often quite rare.
One of their more famous numbers, a self-deprecating meta joke song, 'We Need A Gimmick' signals the return of the Goblin, and if you haven't seen the music video for this song, you are seriously missing out because it's bloody hilarious. I mean to put this into perspective about how nutty everyone's acting, some guy started crowdsurfing, fell through the crowd, got boosted back up, got onto the stage and then took a running jump off the side of it and ended up falling forward and nutting the wall, and as far as I can tell bust his leg – and as I type this he's currently being "seen to" by the Goblin (After staff made sure he was ok).
Start to finish this gig has been full of shenanigans, brilliant shows by every band on the bill tonight. We probably won't see a lineup that's as heavy AND zany as what we've seen here tonight. Top stuff.
The tour continues at Sin City in Swansea tonight (Monday 13 January) and The Joiners in Southampton tomorrow (Tuesday 14), finishing at the Underworld in Camden on Wednesday (15).
All content © Über Rock. Not to be reproduced in part or in whole without the express written permission of Über Rock.