By Jim Rowland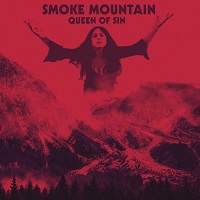 Back in 2017 Florida-based occult fuzz rockers Smoke Mountain introduced stoner and doom fans worldwide to their doomy, fuzz-drenched sound with the release of their highly acclaimed self-titled EP. It's taken a while but now their debut album, 'Queen Of Sin', is finally here via Italy's Argonauta Records, with the female-fronted three piece, all members of the same family, aiming to combine '70s-influenced stoner fuzz with slow and crushing modern doom. It's a mission statement they've certainly succeeded in.
The album has a minimalist production to say the least, with guitar and bass fuzzed up to the max and some very basic, cymbal heavy drums sitting back in the mix. But what shines through is the quality of the material itself. The likes of 'Queen Of Sin', 'The Master Serpent' and the excellent 'Devil Woman' boast irresistible huge, killer repetitive riffs that both the bass and guitar follow note for note. On top of these sit the very impressive vocals of Sarah Pitt, which suit the occult nature of much of the lyrical content and, as is the case with tracks like 'Deathproof' and 'Midnight Woman', have some really strong vocal melodies amongst the doomy chaos.
The title track and the album closer 'End Of Days' are particularly pulverising slices of crushing doom, whilst 'I Walk Alone', a real highlight, stands out not only for its slower, almost sinister ballad-like quality, although still very heavy, but also for the sheer quality of the song itself.
'Queen Of Sin' proves that good quality material can shine regardless of the production value, and like that debut EP, stoner and doom fans should love this. Best played at maximum volume.
'Queen Of Sin' is released tomorrow (Friday 27 March). You can get your copy HERE.
www.facebook.com/smokemountaindoom
All content © Über Rock. Not to be reproduced in part or in whole without the express written permission of Über Rock.