By DJ Monk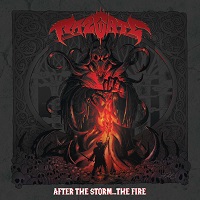 Formed in the Tuscany region of central Italy in the early part of the last decade, Razgate's tale is one of the inevitable line-up changes and accompanying stylistic alterations to suit new members. They've released two full-length albums to date, including 2018's now somewhat prophetically titled 'Welcome Mass Hysteria', which was their first issued via the then newly formed Punishment 18 imprint, who are also responsible for bringing this, their third album, to wider audiences.
'After The Storm…' is an album forged in the fire (sic) of the old school Bay Area thrash influences which the quartet wear heavily on their cut-off denim sleeves, from the Exodus/Metallica/Slayer-style twisted riffs on opener 'Rising Death' through the ferocious pace set throughout by drummer Iago Bruchi to the genre trademark snapping, snarling Araya-esque vocal of Giacomo Burgassi (coincidentally the band's sole remaining founding member).
There is nothing clever or fancy about any of the nine tracks (well, ten if you count the predictable acoustic intro) – but, then, as so often with the thrash genre, there doesn't need to be. Too often, there is a tendency to over-complicate things, and for bands/composers/musicians to try to appear cleverer than they really are, when all you need to do is strip the music down to its essence, put your heads down and deliver 40 minutes of the best, purest music you can, to the best of your actual ability.
Razgate will draw inevitable comparisons with many of those who have gone before them, from the Bay Area gurus mentioned above to Teutonic titans such as Destruction, Grave Digger, Tankard. And that is fair enough: they themselves make no bones about their influences, origins and objectives. And, if one of the latter was to produce a damn fine and highly entertaining thrash metal album, then they have fully achieved that aim. And you can't really say more than fair play to 'em for doing so.
'After The Storm… The Fire' is released tomorrow (Friday 27 March). You can get your copy HERE.
All content © Über Rock. Not to be reproduced in part or in whole without the express written permission of Über Rock.