By John Bedard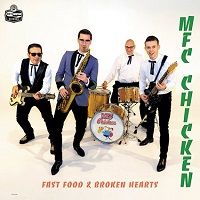 This is exactly the kind of crazy fun we need at the moment. Old school rock 'n roll you can't help but want to dance to. With all the craziness going on in the world right now it is nice to have an album that is just good clean fun. The lyrics are hilarious; whether they are singing about eating chicken out of the garbage or the cops showing up at KFC, pretty much every song will make you smile.
The music here just screams the '60s. From the use of sax and harmonica to the bluesy early rock guitar riffs through what I would say is probably and overdriven clean amp. There are some nice solos thrown in really keeping with that old school feel. A lot of the composition has a slight repetition to it as a lot of music back then did making it really easy to find the rhythm and dance to it. Even if you are not much of a dancer. You just can't help but move.
The vocals also perfectly fit that old school style with a deep tone that is mostly clean with slight breakup occasionally adding some texture. There really is not too much I can say about the vocals beyond simply saying that they are the perfect complement to the style and to the track the band has put together. You can hear the passion come through in every note. The backup vocals also really help to sell the old school feel. It is hard to explain why. It is one of those things that you will understand when you hear it. I do wish that there was a little more use of the backup vocals I liked how well they complimented the lead vocals and thought they could have capitalized on that more.
With this whole global pandemic going on this is a great album to put a smile back on your face and to remind us of how it was and how it can be again once this is over. I don't think there is anyone that won't have fun with this. Even if you are like me and this is not a style that you listen to you will have to acknowledge that it is objectively good. You owe it to yourself to pick this one up. I wholeheartedly recommend it. I loved every second of every track.
'Fast Food & Broken Hearts' is released tomorrow (Friday 27 March). You can get your copy HERE.
All content © Über Rock. Not to be reproduced in part or in whole without the express written permission of Über Rock.