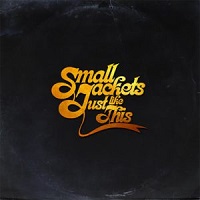 Whilst this is a new album, Italian rockers Small Jackets have been on the scene in one guise or another for almost 20 years.  However, there hasn't been any new music as far as I can tell since their fourth album (originally titled 'IV') in 2013. So, without having heard of these guys before it was only fair to just listen to the album to avoid any lazy comparisons to any older stuff.
The publicity info gives the genre as hard rock/rock and roll/classic rock and a new one on me, sleaze rock. Now whilst I like the first three, I'm going to have to withhold Judgement on the latter for a bit longer – well about 30 minutes or so.
Kicking off with the raucous 'Midnight Town' (which is also the single) it is difficult to understand the distorted lyrics enough to work out what it is about. It is a a very upbeat blues driven riff-fest with a very good Jerry Lee Lewis like piano solo at the breakdown. Other than that, I'm a bit nonplussed.
'Getting Higher' is a funkier style but yet again the lyrics are difficult to make any sense of because the mix is mainly driven by the instrumentation, which continues to be good nonetheless.
'Next Level' opens very similarly to Aerosmith's 'Walk This Way', but yet again the vocals are lost in the mix: this is a personal thing, but then if you are going to the effort to write lyrics at least make it possible for the audience to hear them. 'Breaking The Line' is vocally clearer but still similar to Aerosmith in its vocal performance, even though the music is far more rock. At least I can hear the lyrics on this one.
'Funky Crunchy Music' is what is says and has a bit of a 'Play That Funky Music' feel to it. The opening lyric of 'The Jail' reminded me of 'Time Warp' but the music gets quite a bit more jazzy at the breakdown before getting really weird at the outro. 'Movin On' has a more traditional blues-rock feel to it and is probably my favourite track on the album – but I can't quite put my finger on why.
'Get Out Of My Way' is the easiest track to hear the vocals on and with that more traditional classic rock vibe too it is the catchiest track on the album. 'Celebrate' opens with an acoustic guitar and piano riff before the vocals arrive in a style and range similar to Mick Hucknell from Simply Red.  This is the best track on the album by a country mile in my opinion.
Overall, I'm not sure the band know what they want to be, and this is an eclectic mix of tunes they have recorded that have just been collected on this album.  It's a bit like a curate's egg – good in parts.
'Just Like This!' is release today (Friday 17 December). You can get your copy HERE.
www.facebook.com/SMALL-JACKETS
All content © Über Rock. Not to be reproduced in part or in whole without the express written permission of Über Rock.