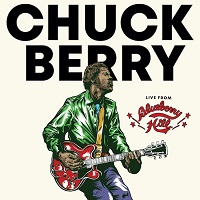 Known as The Father of Rock 'N' Roll, the legendary Chuck Berry needs no introduction. His songs and his music are legendary and countless musicians have been inspired by his greatness. With a career spanning over 60 years, his list of accolades includes being the first member inducted into the Rock and Roll Hall of Fame, a Grammy Lifetime Achievement Award, an induction in the Songwriters Hall of Fame, and a Kennedy Center Honour.
This year, on what would have been Mr Berry's 95th birthday, Dualtone Records announced the upcoming release of a new live collection, 'Live From Blueberry Hill'. The iconic St. Louis restaurant Blueberry Hill is owned by a longtime friend of Chuck Berry's, Mr. Joe Edwards and when Chuck expressed an interest in playing small, intimate venues much like those he played when he was first starting out, a new chapter in the Berry legacy was born. Edwards put in a new stage called "The Duck Room", named of course after Chuck's famous on stage move, the Duck Walk, and Blueberry Hill became a rock 'n' roll mecca. Berry would play 209 performances on that stage over the course of 17 years and the shows themselves became quite an event. Rock 'n' roll royalty would flock to St. Louis to pay homage to the master and on any given night you may have seen the late metal madman Lemmy Kilmister of Motorhead, Robbie Robertson of The Band, or even Lorde.
'Live From Blueberry Hill' features performances from some of those very shows, recorded between July 2005 to January 2006 and the album is indeed a piece of rock and roll history.  Even at the age of 79, Chuck Berry still had the moves and the sounds that cemented him as a legend. His riffs still cut a punch and when you hear classic Berry tunes such as 'Roll Over Beethoven' and 'Sweet Little Sixteen,' it's much like stepping back in time to the beginnings of rock. There's a great chemistry between Berry and his bandmates which were all family and friends handpicked by Berry and became known as the Blueberry Hill Band.  These longtime collaborators are all excellent musicians and stars of the St. Louis scene, including daughter Ingrid Berry on harmonica, son Charles Berry, Jr. on guitar, bassist and bandleader Jimmy Marsala, pianist Robert Lohr, and drummer Keith Robinson.
You won't want to miss Berry getting down and dirty with the T-Bone Walker blues classic 'Mean Old World' and you just may want to get up and dance to 'Rock And Roll Music.'  You can even hear Berry himself introducing some of the songs and chatting it up a bit in between, a real hidden gem if you've never had the pleasure of seeing him perform live. When he says, "here goes Johnny now!", everything erupts for the quintessential Berry tune, 'Johnny B. Goode'.
To all those aspiring rock stars, pick up a copy of 'Live From Blueberry Hill' and get an education from one of the greatest of all time. Who knows, "maybe someday your name will be in lights
saying 'Johnny B. Goode tonight!"
'Live From Blueberry Hill' is released today (Friday 17 December). You can get your copy HERE.
All content © Über Rock.  Not to be reproduced in part or in whole without the express written permission of Über Rock.