By Jase Walker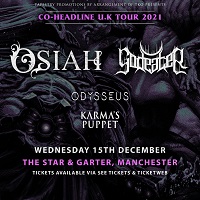 Tonight's show brings me back to one of the staples for local dirty metal gigs in Manchester, Star and Garter. Sadly, Bound In Fear couldn't make it so the line-up for the show is Karma's Puppet, Odysseus, Godeater and Osiah, the headliner in question touring in support of their latest album 'Loss'.
This is no doubt going to pop off big time. I've been stalking Godeater's Instagram throughout the tour so far and the scenes from each show looked incredible. I had a quick chat with the Godeater guys prior to the show and, so far, it's been a solid tour and the rest of the dates are looking to follow suit.
Bang on time at half seven, Karma's Puppet kick off the show – and this is LOUD. The vocals are a mix of growls and oddly Sam Carter (Architects) dirty wails, the sound on the whole is something closer to Bullet For My Valentine or Trivium, a mix of thrash and slower, chunkier verse riffs. To their credit they've got a really thick solid sound that's doing a great job of filling up the room and making the floor shake.
The guitar work from these guys is properly solid stuff too, not afraid of using pinched harmonics while jumping between solid chugs, lovely stuff. The melodies complimented by a solid rhythm section, the bass player and drummer doing great work providing interesting fills and texture to everything else. A really solid show from these lads.
Next up, Odysseus go straight for the jugular with some absolute filth; there's no other way to describe this other than some properly angry shit. Gutturals, chunky riffs mixed with atmospheric arpeggios? Sign me right up.  Yeah, this is definitely home ground for me: seven strings with fanned fretboards, dingwall bass, gimme that djent.
This is legitimately the exact reason I'm always here right from the start for any gig I go to, you never know when a band's going to come out of nowhere and knock you for six and these guys are it. There are all sorts of little bits in their sound: there's Jinjer, Periphery, TesseracT, the absolute works. And man, they really know how to do the "miss a beat then slam" thing that djent is well known for. Top marks on this, you've made a solid fan here, more of that please.
Godeater start while I'm a bit busy blathering to the guitarist and singer from Odysseus and I run straight upstairs because there's no way I'm missing this. Sadly, they're missing a guitarist in this show, but they've made arrangements and I'm ready to get my face melted off with the Scottish tech-death bangers and they're killing it right from the outset. I've found myself a perch on the seats and I can feel every single bit reverberating through my legs, this is the second time I've seen these guys in this same venue and their sound was made for thrashing it.
With new bangers like 'A Pale Shadow' and 'You Are No Exception', Godeater smashes through their set with a few tasty numbers from their last album, 'All Flesh Is Grass'. As we progress through the set, the crowd warms up to them and starts to jump around, but with them playing a favourite of mine, 'Silent Spring', I just want to take in the spectacle. With a bit more crowd interaction, I'm seeing more movement, which is always great to see with a band of this quality. I feel the audience here may not know them super well, but you can see they're breaking ground and getting people into it.
Another top show from these guys and always a pleasure watching.
Osiah, the headlining act, waste no time with introductions: they're here to tear this place up and that's exactly what they're doing. The dirtiest riffs, the most horrifying gutturals, and relentless blast beats, not a single person in the audience isn't gurning right now. One hundred percent gravel in every song, like listening to a hundred car pileup being delivered right to your ears.
This whole show is just non-stop. I don't listen to deathcore a ton but there's some that do break through that I know I like, and Osiah is one of them; seeing them live really is an experience in its own right. Every single riff is designed to be a mix of rhythmic assault and just outright extreme heaviness, the vocals are something that would make the Nazgul cower in fear. God what I wouldn't give to see these, Brand Of Sacrifice and Shadow Of Intent on the same bill, it'd be carnage…
Every band tonight's been outstanding, and even on a Wednesday night, sometimes you just need to give into the riff, right?
The tour continues at Hobos in Bridgend tonight (Friday 17 December) and Brighton's Green Door Store tomorrow, finishing at The Joiners in Southampton on Sunday (19 December).
All content © Über Rock. Not to be reproduced in part or in whole without the express written permission of Über Rock.