By Bona Pjarren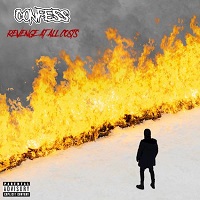 Not to be confused with the Swedish sleaze act previously reviewed in these pages, this incarnation of Confess are Iranian/Norwegian metallers. The band has a new album out on 21 January through Swedish label Rexius Records.  They have a unique back story, which deserves to be told: guitarist and vocalist Nikan Khosravi and fellow band member, DJ Arash Ilkhani, were arrested and imprisoned in one of Iran's harshest prisons in 2015. The two were accused of Satanism and faced the death sentence for blasphemy. Nikan was sentenced to 14 and a half years in prison and 74 lashes and Arash was sentenced to two years. Fortunately, they were offered political asylum in Norway and fled Iran. The two have formed a new line up with Norwegian musicians, which helped them complete work on 'Revenge At All Costs'.
To put the album into context, I asked Nikan and Arash a couple of questions:
Is this your debut album?
Nikan: No, it is our third attempt. Prior to this we have released two other full length, one EP and several stand-alone singles.
Arash: We released two albums when we were in Iran. The first one was in 2012 and it's called 'Beginning Of Dominion', and the second one was in 2015 called 'In Pursuit Of Dreams'.
It sounds like this album is heavily inspired by your experiences in Iran?
Arash: This album is mainly about the time that we spent in prison when we were in Iran. It also talks about Nikan's experience in those days of exile in Turkey. He wrote the songs and lyrics and I added my parts. But anyway, preparing this album from the scratch to the end took six/seven years… it's a long time! So, I can tell you there are other stuff in it besides the prison experience!
Nikan: As Arash said lyrically this album covers a lot of grounds. It's about different aspects of my life during these years and the stuff that happened to us. It's a story telling album with different tones and colours! In one song I talk about the pain and suffering of being in solitary confinement for three months and in another one talking about being empowered by the same pain and now you have to deal with me!
What bands influenced you in creating your sound?
Arash: Mainly bands like Slayer, Slipknot, Chimaira, Trivium, Lamb of God, Sepultura, the bands that we used to listen to since we were teenagers, but the influence that these bands had on us was different from album to album.
Nikan: Same for me. I also always had one of my feet in hardcore music like Hatebreed and '90s Hip Hop. The word plays always have been inspiring for me as a lyricist and music wise I like how punchy it sounds and have been trying to bring their groove into my music.
How are you finding living in Oslo?
Nikan: We're actually living in the northern part of Norway in a city called Harstad. Since I arrived, I've added three members to the line-up, finished our long-waited record produced by Erling Malm and mastered by the legendary producer Machine who used to work with Lamb of God! We have done bunch of shows and we have a tour coming up next April. I also founded and am managing my own metal festival where I live, and I can say it is a good place be and work as an ambitious musician.
Arash: With our three band members in here we did a mini tour in Norway last year and did our first show in Oslo which sold out! One of the other gigs we did was with Mayhem in June 2021, which was great! So. all in all it's good to be here.
A quick disclaimer: the download version of this album that I received filed the tracks in alphabetical order so references to tracks may not be in the order that they appear on the album.
The first track that I listened to was consequently 'Army of Pigs'. It impressed me with its brutality. For bands as heavy as Confess there is the risk that the recordings can come across as being somewhat muddy. This is not the case with 'Army of Pigs', or for any of the subsequent tracks: it is crisp and really shows off the tight riffing of this band. I really liked the guitar patterns that they have written. 'Based on a True Story', which is actually the intro track to the album is a series of thoughtfully put together samples accompanying sound bites chronicling the bands Iranian history. 'EVIN' has a great introduction leading into some descent slabs of metal that is quite hard to pigeonhole. 'Hegemony' starts simply with a solid bass riff, and it is a fitting precursor to the brutally sharp guitar riffs and precise drumming that follow.
There is another massive intro to 'I Speak Hate' and it really sets up the track which has an inspired structure, featuring light and shade that draw the listener in. The single 'Megalodon' is an impressive piece of metal punctuated by some very impressive drumming. Well thought out riffs and a good roving structure with a melodic minor flavour make this an inspiring track. There is a definite pattern emerging with 'Phoenix Rises', another well-structured track with distinctive honed guitar patterns. There are good uses of breakdowns and some nice rhythmic vocals make this another compelling piece.
The guitars on 'Ransom Note' hit you in the face like a swarm of angry bees. It is the type of metal that can strip paint and it is a ruthless, take no prisoners type of song. This is arguably one of my favourite tracks so far. 'Under Surveillance' is next up and again the tight guitar patterns offset the flowing vocal style. This album is turning into a technical treat.
'Unfilial Son' comes hot on the tails of the previous song with a more measured cadence it flows seamlessly while maintaining its aggressive darkness. Another great metal rendering that shifts easily through the gears. It is another contender for my favourite track on the album. 'You Can't Tame The Beast' has some really nice chord voicings and continues the unrelenting driving heaviness of the album. I really like the opening riff as for me it was a bit of an ear worm. The air raid siren effect really adds something and yet another contender for my award of best track: well-constructed, brutal and compelling.
All I all this is a thoroughly decent album and definitely a strong addition to any record collection. With skilful musicianship and inspired writing and arrangements there is a lot to capture the listener's attention. Considering the band's unfortunate history, I think that Iran's loss is Norway's gain.
'Revenge At All Costs' is released on 21 January. You can get your copy HERE.
www.facebook.com/confessbandIR
All content © Über Rock. Not to be reproduced in part or in whole without the express written permission of Über Rock.