By Rich Hobson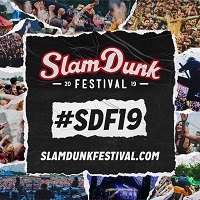 Slam Dunk 2019's line-up is now officially booked, the festival releasing its final wave of artists today (Wednesday 13 February).
Among the bands announced are Neck Deep, Boston Manor and Between You & Me, building on the festival's already prodigious pop-punk offering.
It's not all sunshine and skateboards, however – the festival has also added to its heavier stages with the likes of Kublai Khan, SHVPES and Curel Hand, as well as homegrown prog-minded alt rockers Press To MECO. If you're looking for a bit of a breather, the festival also has a wave of acoustic artists in the likes of Motion City Soundtrack's Justin Courtney Pierre, Rob Lynch, Liam Patrick Cromby, Chas Palmer-Williams and Lizzy Farrall.
Although the festival line-up is now complete, the festival has teased some surprises still to come, with day splits expected in due course. The festival has already laid out the line-up for some of its stages (including Punk In Drublic, Jagermeister and Impericon), as well as promised that its two heavy stages will alternate to avoid clashes.
Slam Dunk will be held on Saturday 25 May at Leeds' Temple Newsham Park, and Sunday 26 May at Hatfield Park.
Tickets are available HERE.